B-A Jr. High Boys' Basketball Preview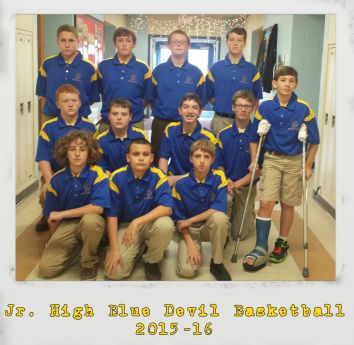 Bellwood basketball is the life of these 13 boys. They work hard practicing for two hours every day except on Sundays. This group of boys is very athletic, competitive and love to play basketball. We had the chance to catch up with some of this year's team to discuss the 2015-16. This is what Ethan Mclaughlin, Zach Miller, Isaac Lusk and Jake Bollinger had to say.
Q1: Are you ready for this season?
A1: They all said yes.
Q2: What is your favorite thing about playing basketball?
A2: Shooting jump shots and winning games.
Q3: What is your favorite position to play?
A3: Point guard and left wing.
Q4: How many wins would you like to have?
A4:  All of them or at least half.
Q5: Is there a team in your league that is really good this year?
A5: Moshannon Valley.
Q6: If you could describe your team in one word what would it be?
A6: Each player gave us one. They include hardworking, amazing, fun and competitive.
After talking to these athletes, we know they will work hard this season, and they will do their best. They came out with a positive attitude and will end with a positive attitude whether they win or lose.
Other junior high team members are Holden McClellan, Trenton Pellegrino, Nick Plank, Evan Morris, Noah Patton, Dalton Davis, Dylan Spiker, Owen Shedlock and Ryan Gerwert. The head coach is Mr. Brent Hughes and the assistant coach is Mr. Adam Mcnaul.
Best of luck to the boys and coaches. We hope they have a great year!
Leave a Comment