Lady Devils get big win over Lady Bulldogs
B-A takes commanding lead in ICC North
Last night the Bellwood-Antis girls' basketball team faced off against the Claysburg-Kimmel Bulldogs in a pivotal Inter-County Conference North divisional match-up, with Bellwood coming out on top with a score of 60-43.
With the win, B-A moves into sole possession of first place in the ICC North, improving their record to 9-1 in the division.
Karson Swogger led all scorers with 26 points while going 14-17 at the foul line.  Riley D'Angelo and Caroline Showalter each added 13 points.
The team also honored Coach Jim Swaney before the game by presenting him with a plaque for reaching his 400th career coaching victory last week.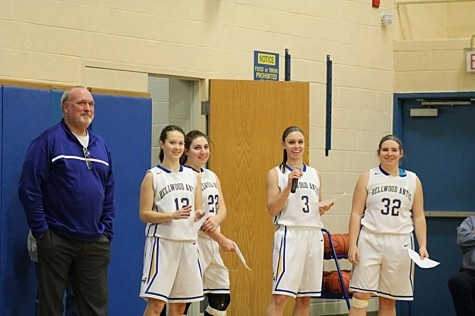 The Lady Blue Devils held Claysburg leading scorers Paige Burk and Elizabeth Weiland to 9 and 6 respectively, well below their season average which are both in the mid-teens.
"It was a big win for us because it basically sealed the ICC North championship," said senior Caroline Showalter, who grabbed five rebounds.
B-A built a big halftime lead by outscoring C-K 21-9 in the second quarter to go up 35-20 at halftime.
The Lady Bulldogs outscored the Lady Devils 13-7 in the fourth thanks to some poor foul shooting for B-A, to claw back into the game after trailing 53-30 at the end of the third.
B-A made only 52 percent of its foul shots, hitting 18 of 34.
"We missed some foul shots late, but we made up for it with our defense," said junior Alanna Leidig.
Bellwood-Antis improves its record to 12-4 on the year, with its next game coming against Westmont Hillltop today in Johnstown.