Alumnus makes trip to Honduras
"Honduras is one of the poorest countries in Latin America and has the world's highest murder rate. More than half of the population lives in poverty and per capita income is one of the lowest in the region."
Honduras is a Central American country with a population of 8,746,673 that established a freely elected civilian government as recently as 1982. Knowing about its poverty and instablilty, would you make the dangerous trip to Honduras? Not many people would.
But one alumnus and her family make the trip often, going to see relatives and help others in the process.
Emily Wagner, who graduated from Bellwood-Antis in 2015, recently made the trip to Honduras in December, after making the trip earlier in June. Each trip lasted about a week, and she explained how each trip was different in its own way.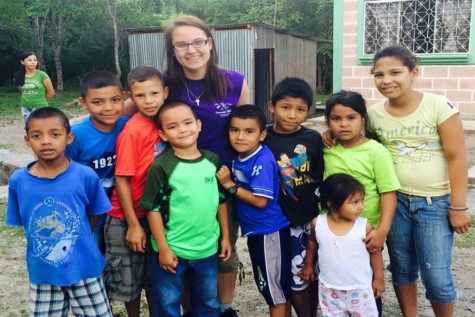 While there in June, the trip was mostly focused on visiting a village elementary school and teaching the students, Emily said. They also built a church.
She said  the trip in December was more focused on sponsoring the kids there and giving Christmas presents made by parishioners of her church.
Emily originally thought that her first trip would be a one-time thing, but it grew into something more.
"Whenever we got to Honduras, we handed out (Christmas) boxes to over five hundred children, and took a picture of them holding their boxes," she recalled. "Upon returning, I made a slideshow to show everyone who had made the boxes."
Emily's stepmother Mari Wagner, who came to America from Honduras as an exchange student at Mount Aloyisius, has done smaller projects in the past with boxes which has grown over the years.
The visits take place through Hillside Community Church, which took its first trip to Honduras at the request of Emily's step mother.
"In 2012, I traveled with a team from Hillside to help build a church for my biological parents who live in the village of La Venta del Sur Honduras," Mari said.
She also talked about the first trip to Honduras taken by Emily and her younger sister Ali, who is a freshman at B-A.
"
"I think that everyone should make a trip like visiting Honduras. It makes you realize that some people have so little."
— Emily Wagner
"In spite of the cultural and language barriers, Emily and Ali connected very deeply with the people in the village and quickly made friends. This was their first time out of the country, and I was anxious to see how they would react to being in a different world," said Mari.  "I knew the experience would be eye-opening for them, but I didn't expect for them to connect so intimately with the people, especially the children. They don't look at the people there as people who need help, but as friends who they enjoy spending time with."
"There is just a thrill going to see family that we can never see that often. But mostly, the biggest thing is spending time with the kids," Emily said. "I have connected to so many of them. They are the next generation, and I want to help make an impact,."
Emily talked about many of the experiences that she had while on her trip.
"I spent hours outside playing with the kids. It is such a home-like feeling being there, and I never once felt like I was in any danger," she said. "The weather was always so nice, and the people there are always so happy. For having so little, they never complain about anything. It is so much different than how people act here."
In Honduras, everything that you eat is real, Emily mentioned. It's natural and all healthy for you.
She also added how they have liquid in bags, such as water and Coca-Cola, to drink. They care a lot about music. People are always singing and playing the many instruments that they have.
"They have electricity and cell-phones there, but I never got on my phone. Being there reminds me of a time when people weren't always obsessed with technology. I would be outside all day, and never even think about checking my phone," Emily said.
Emily's stepmom also added how during their trips, they sleep on inflatable mattresses on the floor and shower from a bucket if there was water available. The food and weather is very different from here.
While there are countless experiences Emily recounted, overall she loves making the trip in general. She said the people are very different, and their way of live is also completely different.
Even though statistics may show that it is a very dangerous trip, Emily plans to continue to visit Honduras.
"I think that everyone should make a trip like visiting Honduras. It makes you realize that some people have so little, but are always still so happy with what that do have. It is such a huge eye-opener, and it makes you appreciate like just a little more. It taught me to be happy about even the smallest things in life."