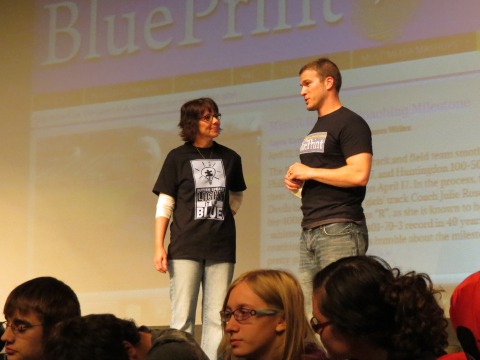 Caroline Showalter
April is National Autism Awareness month. The BluePrint normally sells t-shirts and donates the money to Western and Central Easter Seals Disability Services. Last year the BluePrint missed out on Autism Awareness Month but this year we plan to bring it back.
"Unfortunately the BluePrint didn't participate in the fundraiser last year because it was the first full year we went online. The staff and I ran out of time with trying to establish the BluePrint as a website and we just missed out on the opportunity," BluePrint advisor Kerry Naylor said.
The BluePrint raised over $700 two years ago by selling t-shirts and this year we plan to earn more than that! The BluePrint is also changing who we donate to this year. As most students and parents know Bellwood Antis is a close knit school and we plan to donate the raised money to the new Autistic/ Multi-Disability Support Room in Bellwood-Antis High School
The aids in the Autistic/ Multi-Disability Support Room encounter more of a one-on-one with students. For some of the teachers it's hard to figure out what the students want or need because they can't necessarily tell you.
In 2014 one child out of 68 was born with autism, 1 percent of our population.
"I think it's a great idea because my freshman year I wrote a story and it helped to promote the individual students. Selling t-shirts allows us to help every single student in the Autism/ Multi- Disability support room, along with the room that allows them to go to throughout the day", BluePrint blog writer Myranda Mamat.
To raise awareness of how autism affects the everyday world the BluePrint is selling t-shirts throughout the month of March. They will be $10.00.