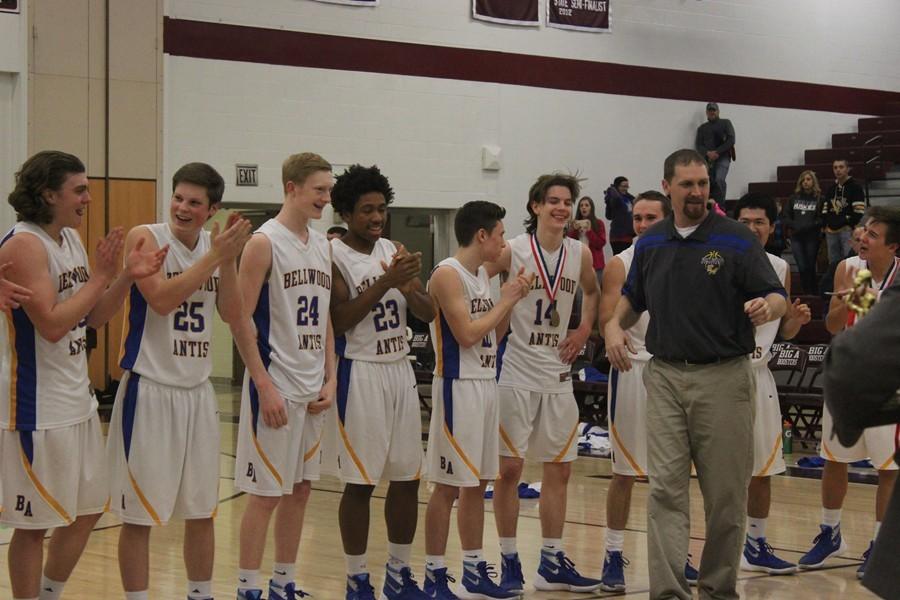 Marissa Panasiti
About two years ago, the Bellwood-Antis boys ended their season with five wins and seventeen loses.
"It was very tough to want to come in everyday and work when we basically knew we weren't going to win," said Ethan McGee, a starting guard for the Blue Devils. "It felt like a drag and we all wanted to put it into the past."
The last game they played that season was against Everett, and they won by twenty three points, with an ending score of 89-66. Nathan Davis scored 39 points and Jake Burch hit for nine.
"I was just happy it was over at that point," said Davis, who has since become B-A's all-time scoring leader with more than 2,000 points. "I didn't even think what it could mean."
This season the boys record is 24-2, so far, with a District 6-AA championship, which it won last week over West Branch.
This was a huge turn around for the boys, but what were the keys to make this possible.
Brent Gerwert, the boys head basketball coach, thinks this huge change happened because the team put in the time to make itself better.
" As I am sure the boys will tell anyone, I am very demanding and ask a lot from my players," said Coach Gerwert. "I knew what this group of boys were capable of and pushed them to achieve it."
He also thinks the turnaround was also a factor of the physical maturation of the boys over the past two years. The players starting this season were freshmen and sophomores two years ago.
"Two years ago, the boys got so wore down playing games against others who were three or four years older than them," Coach Gerwert said. "As hard as it was to lose all those games that year, the boys played very hard and did everything that was asked of them."
B-A improved to 20-8 last season. The Devils played in the ICC championship game, falling to Southern Fulton, and lost to West Branch in the District 6 semifinals.
This season, the Devils won the ICC championship game over Southern, defeated rival Tyrone in the semis, and then beat West Branch by six in the title game.
Davis and Joe Padula both average double figures, while Jarrett Taneyhill and Jake Burch average eight per game.
Davis feels their success is because of the friendships that have developed, and being there for each other off and on the court.
"The comradery we shared off the court affected our play on it," he said.   "We play with confidence and heart."
Taneyhill, a starting junior, added, "I think the fact that we all stuck together even when we were really bad was the key."
McGee thinks the turnaround started in the offseason.
"We grinded the entire offseason to get better individually and as a whole," he said. "Hard work paid off."
Noah D'Angelo, a starting senior, said desire was the big key.
"We all carried the desire to get better," he said. "That's what we did and with wins, we gained confidence, and confidence helped us come together and operate like a well-oiled machine."
The boy's season is not over yet and the next goal they are trying to achieve is to win at least one game in the state playoffs and to advance farther than we did last year.
It starts Saturday at Hollidaysburg Area Senior High against Quaker Valley from the WPIAL in the first round of the PIAA tournament.