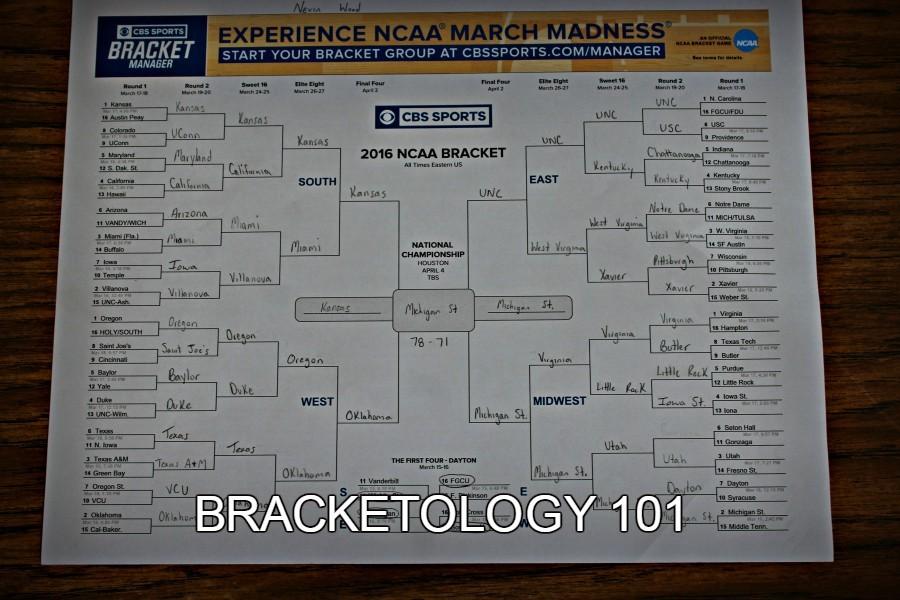 Brianna Reiter
Bracketology, the process of predicting the field of college basketball participants in the NCAA Basketball Tournament, is now an integral part of sports society.
The weeks leading up the tournament are filled with conference tournaments, and a whole lot of guessing as to who will get the at-large bids.
Joe Lunardi, the wizard of March Madness, is credited with inventing the term bracketology, and is consulted by other sports analysts and shows nonstop leading up to the tourney.
Some people do hours of research, pouring over quality wins, strength of schedule, etc.
Truthfully, this is all unnecessary.  You are trying to predict the future, which no one can do.
So what exactly is the best tactic for picking the winners of these tournament games?
The BluePrint set out to answer this question and see if there's a difference between critically analyzing a bracket, and picking with no prior knowledge.
If you aren't someone who follows college basketball during the season, any of these might be viable options.
I have been filling out brackets ever since I was about five years old, and I follow college basketball religiously during the season.  My approach has always been to pick the teams that I truly believe are better, which usually means I select the higher-seed.
However bland and unexciting this might seem, it's just my particular tactic.
My Final Four this year consists of Kansas, Oklahoma, UNC, and Michigan St.; I have the Spartans winning it all.
The biggest upset I picked in the tournament was #11 seed Gonzaga over #6 seed Seton Hall in the first round.  Gonzaga actually has the better record of the two.
Freshman Alivia Jacobs, who openly admits she doesn't know a thing about the game of basketball, agreed to fill out a bracket for this BluePrint article.
It appears Jacobs may have a certain affinity for dogs, because every time she gets the chance, she'll pick the team with the canine mascot.
She sent the #15 seed, UNC-Ashville (Bulldogs), and the #12 seed from the Ivy League, Yale (Bulldogs), to the Elite Eight.
Jacobs selected Pittsburgh and Butler (Bulldogs), two teams that were on the bubble, to advance to the Final Four.
The number 9 seed UConn (Huskies) are also headed to Houston for the Final Four in Alivia's bracket.
If these picks don't seem outlandish, she also picked #16 seed Hampton out of the Southern Athletic Conference to upset #1 seed University of Virginia.  A #16 has never beaten a #1 in the history of the tournament.
While people may laugh and scoff at the Alivia's picks, they should hold their tongue until it's all said and done.
That's the beautiful thing about March Madness: you just never know what you're in store for.