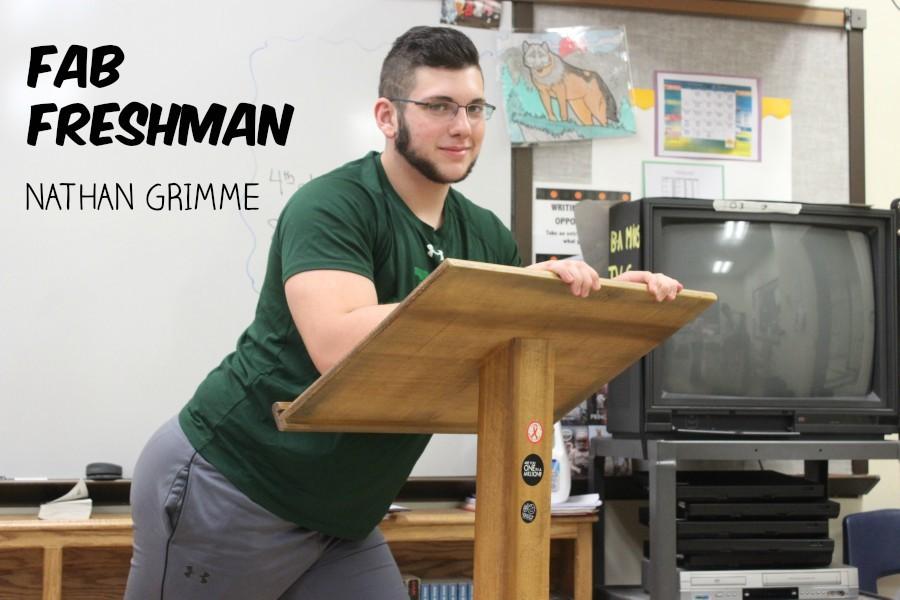 Ali Wagner
Nathan Grimme is a very friendly, and hardworking student and athlete.
He loves attending Bellwood-Antis because he thinks the program is great.
"We have good athletic programs and everyone is very friendly."
The biggest difference between Middle School and High school for Nathan is the lack of homework.
If he had to pick a favorite class it would be Earth Science with Mr. Goodman.
"Mr. Goodman is my favorite teacher because you can tell he knows what he's talking about and he is passionate about science.
"We have good athletic programs and everyone is very friendly," Nathan said.
Nathan also plays football and his positions are left tackle and defensive tackle.
He lifts and works on his sports most of his time.
"I do both speed and strength training every night after school for about two hours," he said.
Nathan recently went to a football camp called XPE Sports Academy that he was invited to. His favorite part about this camp is he got to meet and hang out with NFL players.
The next camp he is going to be attending is the Laurens First and Gow Exposure.
"I'm looking forward to how there are around 300 college coaches there," said Nathan.
Nathan is also involved in wrestling.
"I like football more just because of the teamwork," said Nathan. "Wrestling is an individual sport."
Next year Nathan is moving up to the Varsity team. He said the only thing he will miss from Jr. High is the coaches.
"I'm extremely excited for Varsity," he said. "I look forward to being challenged by better competition."
His favorite part about playing both of these sports is they really go together.
"Wrestling teaches hand fighting and with me on the line I need that."
Whenever Nathan isn't working on sports he loves to hang out with his buddies.
Paige Wenner, one of Nathan's freshman friends, says "Nathan is a great friend and fun to hang out with."
Ali Wagner, another one of his freshman friends, says "I love being best friends with Nathan, even when he calls me by my full name."