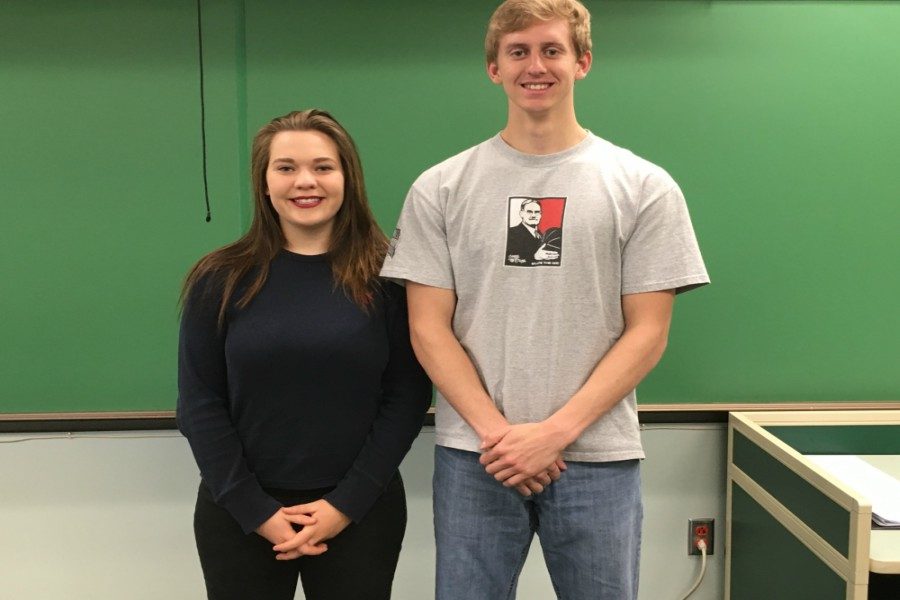 Ali Wagner
In what has already been a successful year for the BA BluePrint staff, two more writers have been awarded for their efforts.
Seniors Hannah Klesius and Nathan Davis, two first-year writers for the BluePrint, will be traveling to Lancaster County for recognition in May. There they will be accepting awards from the Pennsylvania Press Club at their Awards Luncheon.
Hannah will be accepting a 2nd place award for her blogs "Our last firsts" and "Message from millennials".  Nathan will be accepting two 3rd place awards, one for his news story "Budget impasse: Stalled budget could ripple to local schools," and one for his feature story "1994 grad overcomes violence and tragedy".
Hannah started writing the blogs just as a way to contribute to the BluePrint, but she soon found them as a way to express herself.
"I started writing blogs as a way to add to the BluePrint site.  After a while I realized I could turn them into topics that were important to me," explained Hannah.
As far as her award goes, Hannah surprised herself by placing in the competition.
"I feel honored and surprised.  I always thought of my blogs as something to contribute to the website, and as an easy grade; I never imagined they could win awards," said Hannah.
After learning he placed 2nd in continuous coverage in the Keystone Press Competition, Nathan got ill before the luncheon was not able to attend.  Because of that, he was excited to learn about the recent awards that he won.
"I was bummed out because I missed the Keystone Awards while I was sick.  So this was definitely a nice surprise to come back to," said Nathan.
BluePrint adviser Mr. Kerry Naylor is happy to see his staff getting some recognition.
"It's not all about prizes and awards, but it's nice to see their work recognized," explained Mr. Naylor.
Both of these seniors are happy with their decision to schedule journalism in their last year of high school.
"It turned out to be a great way to work together to turn out stories and enhance my writing abilities," explained Nathan.
"I am incredibly happy with my decision to take Journalism my senior year.  It has allowed me to experience new things and broaden my horizon immensely.  I never imagined I could achieve as much as I did and discover these new talents," said Hannah.
With all of the recent success, Mr. Naylor is excited to see what the staff can accomplish next year.
"Each year our staff sets the bar higher for the next group coming in. This year's group has done an amazing job and set the standards for next year exceptionally high," said Mr. Naylor.
Congratulations to Hannah and Nathan on their well-deserved writing awards.