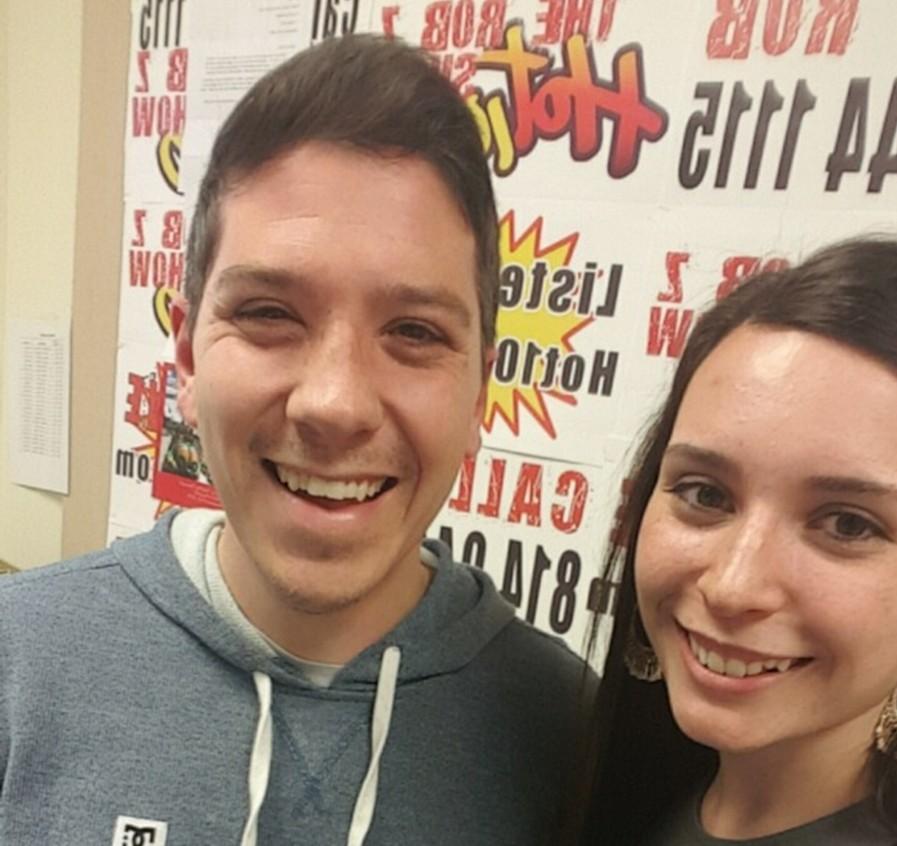 Maria McFarland
On Monday, April 4, members of Aevidum  went to Hot 100 to discuss the dangers of social media as well as other aspects of the Aevidum program.
Maria McFarland, Emily Hoover, Mariah Younker, Ethan Kolbfleisch, and Brandie Ray, were interviewed by radio DJ and local personality Rob Z in an effort to raise awareness of the serious issues taking place in our community.
While there the member discussed suicide prevention, cyber bullying, dating violence, and how friends, peers, teachers, faculty, and parents can better influence students dealing with these issues.
Freshman Brandie Ray discussed the topic of suicide prevention. She mentioned the important role that parents play in the lives of teenagers. Ray also discussed her experience at the studio and how the discussion will not only effect other students but also herself.
"It was extremely humbling because as a teenager myself," Ray stated. "I am also scrutinized by the things I say and it is more than refreshing to speak out when you're so suppressed and angry.
"I was given the opportunity to share the very things wrong in our society and know that people were listening and that they understood because Rob was extremely supportive and encouraging with awesome compliments."
This new program Student Social Safety will replace the previous promotion Buzz Free Prom. This year will act as a "trial run," but is seen to have a much greater impact on the community.
Rob Z explained that Hot 100 wanted to speak with the Aevidum groups of Blair County because students in junior high and high school use social media the most, are the most adaptive to new social media, are easier to influence and abuse via social media, and spend the most time actively using social media platforms.
"We wanted to actually talk with students," said Rob Z, "understanding their issues, hear these issues from their vantage point, and act as a medium to further help the cause of Aevidum.
"We want to make sure that Aevidum and Family Services, Inc. programs are well known, easily accessible, and understood so that students know where to go and feel comfortable when they need help or advice."
Senior Ethan Kolbfleisch was very insightful and was able to lead discussions on unstable relationships and how people can better understand and fix the situations that too often go unseen.
"People don't like to accept the pain that is in the world," said Kolbfleisch. "Some of the people you may see in the halls may be smiling and for some it's genuine but for others it might be fake and it is our job to show these people the love and grace they deserve instead of the hate that they have heard."
Rob Z even commented on B-A's willingness to discuss the issues present in adolescent life today.
"It seemed that the Bellwood Aevidum group is very active and engaged in school and concerned with the well-being of the students," he said. "Ethan Kolbfleisch gave really good insight on Dating Violence. He seemed to genuinely care about the safety and happiness of his friends and fellow classmates and was passionate about the Aevidum program and its message."
It seemed that the B-A Aevidum group wasn't the only one that expressed their concern for the community. Rob Z also expressed major concern and attentiveness to what the members had to say.
"I could see that he was learning during the process, which showed that he wanted to listen to us 'kids' because he was able to understand that we (teenagers) deal with these issues on a daily basis," mentioned Kolbfleisch.
"Every year it will get stronger as we build relationships with Aevidum programs and students and teachers from schools in Blair County," said Rob Z.