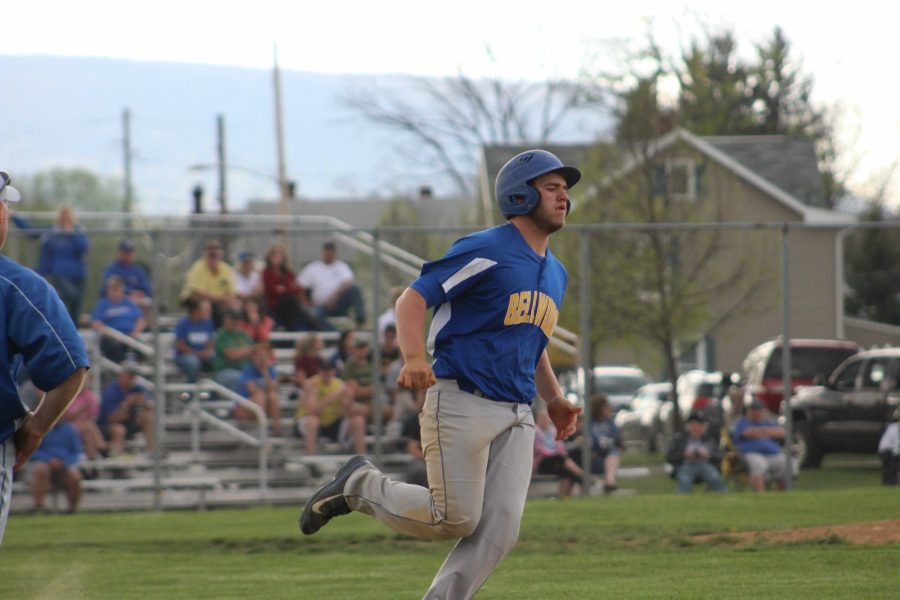 Ali Wagner
The Bellwood-Antis baseball team won yesterday in walk-off fashion, as the Blue Devils pulled out a victory 3-2 over Mount Union.
Bellwood trailed the ICC North leader for most of the game until scratching across two runs in the sixth to tie the game, 2-2.
"We did enough at the plate to tie the game, and we had three good at-bats with two outs in the bottom of the seventh," said Bellwood Coach Steve Conlon.
Noah Burns then hit a single in the bottom of the seventh inning with two away to get on base.
Brendan Kowalski followed that up by getting a walk that pushed Noah in scoring position.
Nevin Wood then drove one up the middle to push across the winning run and end the game.
"I saw a fastball coming and was able to get the job done with an RBI single, scoring Noah Burns for the game winning run," said Nevin Wood.
B-A trailed 2-0 in the bottom of the sixth when Jack Showalter was able to get his bat on the ball and drive in a pair of runs with an error at short to tie it 2-2.
It was the first ICC loss for the Trojans, who at 11-2 overall still lead the conference by one game over Juniata Valley.
"Hopefully we use this and gain some momentum to finish out the season and head into the playoffs," added Coach Conlon.
Wood led the Blue Devils with two hits, along with Noah Burns, Jack Showalter, and Joey Padula all pitching in one hit each.
Burns, who is also looking to make a run in playoffs said, "Yesterday was a big win for our confidence, and I'm hoping to keep the win streak going."
It was the first time this season the Blue Devils linked together back-to-back victories.
B-A improves their record to 8-6 on the year, and will look to continue to stay hot against Northern Bedford on Friday.