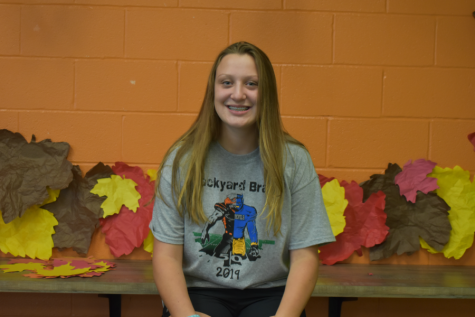 How many years have you been in Blueprint?
This is my first year in the Blueprint.
What would you like to do this year?
I would like to take pictures of games when I can and write good articles.
What grade are you in?
I am in ninth grade.
Why did you take Blueprint?
I took Blueprint because I like to take pictures and write.
Kyra Markey, Staff Writer
Mar 11, 2020

Sam Gormont advances to National Student Congress contest

(Story)

Feb 25, 2020

BA History: The water fountains

(Story/Media)

Feb 19, 2020

Bellwood-Antis Mock Trial team makes it to playoffs

(Story)

Feb 13, 2020

BA teacher couples reflect on their time together

(Story)

Feb 10, 2020

Bellwood-Antis students attend junior High County band Festival

(Story)

Feb 05, 2020

Autism awareness t-shirt sale and poster contest underway

(Story)

Jan 23, 2020

Why is it so hard to keep new year resolutions?

(Story)

Jan 22, 2020

Bellwood-Antis district chorus singers advance to regionals

(Story)

Jan 09, 2020

mini-THON committee hosting movie night

(Story)

Jan 02, 2020

Catching up on some ZZZZZs

(Story)

Nov 21, 2019

BA cuts down screen time for students

(Story)

Nov 06, 2019

Fab Freshman: Andrew Nycum

(Story/Media)

Oct 22, 2019
Oct 10, 2019

Chocolate milk goes out of style

(Story)

Oct 02, 2019

Sakeria Haralson writes her own book

(Story)

Sep 27, 2019

New officers for the Chess Club

(Story)

Sep 26, 2019

XC team hosting 5k homecoming run Saturday

(Story)

Sep 16, 2019

BA kicks off Homecoming week

(Story)

Sep 10, 2019

Bellwood kicks off a new year in style

(Story)