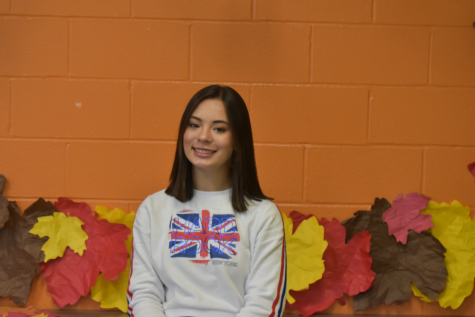 How many years have you been in the Blueprint?
This is my third year in Blueprint.
What would you like to do this year in Blueprint?
I would like to do videos, take photos, and maybe write more holiday stories.
What grade are you in?
I am in eleventh grade.
Why did you take Blueprint?
I took Blueprint because I love taking photos and this club allows me to explore photography.  It also helps me improve my writing.
Malia Danish, Staff Writer/Photographer
May 30, 2020

Jimmy John's still serving its customers despite COVID-19 shutdown

(Story/Media)

May 23, 2020

Feature Teacher: Mr. Elder

(Story/Media)

May 16, 2020

How Sweet Frog is Dealing with Covid-19

(Story/Media)

May 09, 2020

Scene from a Different Lens: Blair County

(Story/Media)

May 02, 2020

Scene from a Different Lens: Spring

(Story/Media)

Apr 28, 2020

How Covid-19 is affecting local Coffeehouse

(Story)

Apr 19, 2020

Photostory: Covid-19 Ghost Town

(Story)

Mar 12, 2020

B-A continuous moves to avoid, prepare for corona

(Story)

Mar 10, 2020

SCENE FROM A DIFFERENT LENS: Warm day in March

(Story)

Mar 05, 2020

Proactive steps for preventing coronavirus at B-A

(Story)

Feb 19, 2020

Two B-A musicians play at District Band

(Story)

Feb 12, 2020

ARTIST OF THE WEEK: Noah Patton

(Media)

Feb 11, 2020

SCENE FROM A DIFFERENT LENS

(Story)

Feb 05, 2020

BA Mock Trial Team wins second meet

(Story)

Jan 24, 2020

B-A to perform You're a Good Man Charlie Brown

(Story)

Jan 10, 2020

BELLWOOD BIOS: Jo Jo Caswell

(Story)

Jan 10, 2020

The Bellwood Bios with Jojo Caswell

(Story)

Jan 02, 2020

The Bellwood Bios with Tyler McCaulsky

(Story/Media)

Jan 02, 2020

BELLWOOD BIOS: Tyler McCaulsky

(Story)

Dec 17, 2019

COLLEGE CORNER: Harkins selects Wisconsin

(Story)

Dec 17, 2019

Scholastic Scrimmage Team falls in the Semi-Finals

(Story)

Nov 27, 2019

MS ATHLETE OF THE WEEK: Alex McCartney

(Story)

Nov 21, 2019

Bellwood Bios With Alexandra Diamond

(Story/Media)

Nov 21, 2019

BELWOOD BIOS: Alexandra Diamond

(Story)

Nov 19, 2019

BluePrint students score high at a writing contest

(Story)

Nov 04, 2019

College Corner: Faith Patton

(Story/Media)

Oct 31, 2019

BOOKLIGHT: 'Salem's Lot

(Story)

Oct 22, 2019
Oct 18, 2019

HOLIDAY-ISH: National Chocolate Cupcake Day

(Media)

Oct 14, 2019

Too Cool For School

(Story/Media)

Oct 01, 2019

2 COOL 4 SCHOOL

(Story/Media)

Sep 24, 2019

Super Senior: Karlie Feathers

(Story/Media)

Sep 19, 2019

Homecoming court enjoys skit night

(Media)

Sep 18, 2019

Renaissance Club Hosts Skit Night Tonight

(Story/Media)

Sep 17, 2019

Bellwood-Antis cafeteria staff awarded

(Story)

Sep 12, 2019

Homecoming dance 2019 slated for Saturday

(Story)

Sep 12, 2019

Super Senior: Faith Patton

(Story)

May 14, 2019

Should School Start Later? POLL

(Story)

May 06, 2019

POLL: Should coffee be allowed in school?

(Story/Media)

Apr 29, 2019

POLL: Spoons vs. Forks

(Story)

Apr 15, 2019

PhotoStory: After the Storm

(Story)

Apr 03, 2019

Scene from a Different Lens: Paper

(Story)

Mar 19, 2019

Baseball team expects a strong season

(Media)

Mar 08, 2019

SCENE FROM A DIFFERENT LENS: Water

(Story)

Feb 28, 2019

SCENE FROM A DIFFERENT LENS: Chess Club

(Story/Media)

Feb 11, 2019

Cursive controversy

(Media)

Feb 07, 2019

Bellwood-Antis then and now

(Story/Media)

Feb 06, 2019

BEHIND THE SCENES: the making of Forgotten Bellwood

(Story)

Feb 04, 2019

PHOTOSTORY: Boys Basketball vs. Juniata Valley

(Story)

Feb 04, 2019

B-A boys grab ICC lead

(Media)

Jan 25, 2019

SCENE FROM A DIFFERENT LENS

(Story/Media)

Jan 15, 2019

SCENE FROM A DIFFERENT LENS: outside in the snow

(Story)

Jan 10, 2019

Up and down season continues for B-A

(Media)

Jan 09, 2019

B-A grad shares story of a daughter with DIPG

(Media)

Jan 07, 2019

Glendale slips past Blue Devils

(Media)

Dec 30, 2018

Lady Devils take Reliance title

(Media)

Dec 26, 2018

Scene From a Different Lens: Boys basketball versus Mount Union

(Story/Media)

Dec 18, 2018

MASTERING HIGH SCHOOL: How to Deal With a Bad Day

(Media)

Dec 05, 2018

Three B-A skaters look to push Altoona to another title

(Story)

Dec 03, 2018

SCENE FROM A DIFFERENT LENS

(Story/Media)

Nov 27, 2018

Just a cheerleader

(Media)

Nov 12, 2018

SCENE FROM A DIFFERENT LENS: Myers Elementary

(Story)

Nov 01, 2018

Scene From a Different Lens

(Story)

Oct 24, 2018

SUPER SENIOR: Paulino Cuevas

(Media)

Oct 23, 2018

Scene from a different lens

(Story/Media)

Oct 22, 2018

Stockings for Troops kicks off

(Story)

Oct 05, 2018

Students encouraged to get the flu vaccination

(Story)

Sep 27, 2018

Homecoming week continues with wild lip sync contest

(Story/Media)

Sep 26, 2018

Homecoming dance a huge success

(Story)

Sep 25, 2018

BA HISTORY 101: 1996 Homecoming spirit week

(Media)

Sep 17, 2018
Sep 13, 2018

B-A teacher learn to Stop the Bleed

(Media)

Sep 10, 2018

RAINS FORCE SCHOOL CLOSURE

(Story)

Aug 25, 2018

Blue Devils fall in the Brawl

(Media)

May 31, 2018

PHOTOSTORY: Yearbook assembly and senior awards

(Story)

Apr 27, 2018

ARTISIT OF THE WEEK: Nicholas Caracciolo

(Media)

Apr 25, 2018

PHOTOSTORY: The last activity period

(Story/Media)

Apr 04, 2018

SENIORS: It's not too late to apply to college!

(Media)

Feb 16, 2018

PHOTOSTORY: Variety Show

(Story/Media)

Jan 27, 2018

PHOTOSTORY: Thon assembly

(Story/Media)

Jan 25, 2018

Friends and competitors

(Media)

Jan 19, 2018

ATHLETE OF THE WEEK: Emilie Leidig

(Media)

Dec 20, 2017

SPORTS ROUNDUP: Lady Blue Devils get up and never look back

(Media)

Oct 16, 2017

BA competes in PMEA District Chorus auditions

(Media)

Oct 05, 2017

Exchange students adjusting to life at B-A

(Media)

Oct 04, 2017

PHOTOSTORY: media center fun!

(Story/Media)

Sep 29, 2017

Skit Night Videos

(Media)

Sep 29, 2017

Leo Club hosts annual skit night

(Media)

Sep 22, 2017

Old faces in new places

(Media)

Sep 18, 2017

Tech opportunities expand with maker space

(Media)