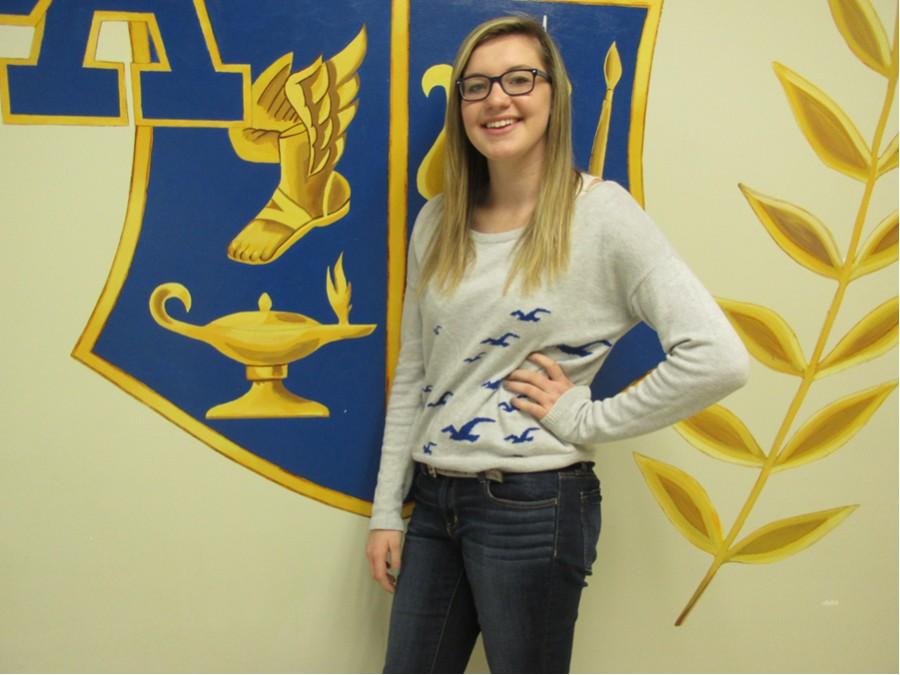 Edyn Convery  
Grade
: 11
Age
: 16                                                                
Experience
: 1
st
BluePrint year
I normally cover stories on basically anything going on in Bellwood-Antis.
I think I bring a sense of creativeness to the BluePrint.
My activities include softball, for both Bellwood and a traveling team, called the Razorbacks.  I am also involved in Aevidum, the BluePrint, and Helping Hands.
My favorite thing about the BluePrint is that we work very hard and very fast to get out stories to people beyond just the student body. We cover stories from athletics, academics, clubs, activities,  to thing happening within the community.
"Journalism can never be silent: That is its greatest virtue and its greatest fault. It must speak, and speak immediately, while the echoes of wonder, the claims of triumph and the signs of horror are still in the air." -
Henry Anatole Grunwald
Edyn Convery, Social Media/Online Editor
May 26, 2016

Seniors say goodbye

(Story)

May 20, 2016

The BluePrint Buzz

(Story)

May 05, 2016

First round of 2016 NBA playoffs recap

(Media)

Apr 30, 2016

The BluePrint Buzz

(Story)

Apr 15, 2016

The BluePrint Buzz

(Story)

Apr 08, 2016
Apr 01, 2016

The BluePrint Buzz

(Story)

Mar 18, 2016

Promposals on the rise!

(Media)

Mar 03, 2016

The Breakfast Club: Preseason workouts

(Story)

Feb 26, 2016

The BluePrint Buzz

(Story)

Feb 26, 2016

On the Court with Karson Swogger

(Story)

Feb 12, 2016

On the Court with Nathan Davis

(Story)

Feb 12, 2016

The BluePrint Buzz

(Story)

Feb 09, 2016

On the Mat with Nate Claar

(Story/Media)

Jan 30, 2016

The BluePrint Buzz

(Story)

Jan 22, 2016

The BluePrint Buzz

(Story)

Jan 16, 2016

The BluePrint Buzz

(Story)

Dec 21, 2015

The BluePrint Buzz

(Story)

Dec 11, 2015

The BluePrint Buzz

(Story)

Dec 05, 2015
Nov 19, 2015
Nov 06, 2015
Oct 30, 2015

The BluePrint Buzz

(Story)

Oct 23, 2015
Oct 09, 2015
Sep 25, 2015
Sep 19, 2015
Sep 16, 2015

Changes in dress code spark student response

(Media)

Sep 11, 2015

Myers students enjoy Agriculture Day

(Media)

Sep 11, 2015
Sep 04, 2015
Jun 04, 2015

BluePrint Stories of the Year

(Story)

May 27, 2015

Feature Teacher: Mr. Hughes

(Story/Media)

May 20, 2015

Super Senior: Crystal Evans

(Media)

May 14, 2015

Bellwood-Antis students receive $291,750 in scholarships

(Story)

May 13, 2015

Summer Suggestions

(Media)

May 08, 2015

Happy Mother's Day

(Media)

May 04, 2015

Four BA Wrestlers Take A Spot on Pennsylvania All-Academic Team

(Story)

Apr 28, 2015

Elementary Teacher Travels to Minnesota for National Convention

(Story)

Apr 20, 2015

Mariah Younker: Just Juniors

(Story)

Apr 15, 2015

Sensational Sophomore Hailey Fetterman

(Media)

Apr 14, 2015

Meghan Claar grabs a seat in statewide debate

(Story)

Apr 14, 2015

Solar Cooker Project touches BASD

(Media)

Apr 10, 2015

Track teams continue to roll

(Story)

Apr 03, 2015
Mar 19, 2015

Do sports parents go too far?

(Story)

Mar 06, 2015

Read Across America Theme: Dress like a book character end the week

(Media)

Mar 05, 2015
Mar 03, 2015

The color of a controversy

(Media)

Feb 25, 2015

Teachers recognize Black History Month in their classrooms

(Story)

Feb 20, 2015

Fab Freshmen: Kayla Beichler

(Media)

Feb 13, 2015

Let's just call it a day

(Media)

Feb 06, 2015

Are guys the biggest prom accessory?

(Story)

Jan 07, 2015

FFA students heading to PA Farm Show

(Story)

Dec 16, 2014

Sensational Sophs: Saige McElwain

(Story)

Dec 11, 2014

Feature Teacher: Mrs. Szynal

(Story)

Dec 05, 2014

Bellwood-Antis Hosts Reading Competition

(Story)

Nov 17, 2014

Thanks to preseason work, Blue Devil winter sports officialy begin today in top shape

(Story)

Oct 23, 2014

Tyrone edges Bellwood-Antis in Instagram War

(Media)

Oct 17, 2014

Booklight: Out of My Mind

(Media)

Oct 10, 2014

Stomp Out Bullying campaign picks up steam at Bellwood-Antis

(Media)

Sep 29, 2014

Booklight – Breathing Under Water

(Media)

Sep 29, 2014

Just Juniors – Rozalyn Yancey

(Media)

Sep 24, 2014

Tennis team, led by B-A standouts, cops Mountain League title

(Story)

Sep 19, 2014

Leamer makes volleyball history

(Story)

Sep 11, 2014

Bellwood-Antis High School teachers remember 9/11

(Story)

Sep 03, 2014

High school principal heading to Tyrone

(Story)

Sep 03, 2014

Meet a buddy at lunch

(Story)

Jun 04, 2014

Big Man on Campus: Jaqueline Finn

(Story)

Jun 02, 2014

Yearbook Assembly Draws Cheers & Tears

(Story)

Apr 10, 2014

Allegiant: A Review of the Third Installment

(Media)