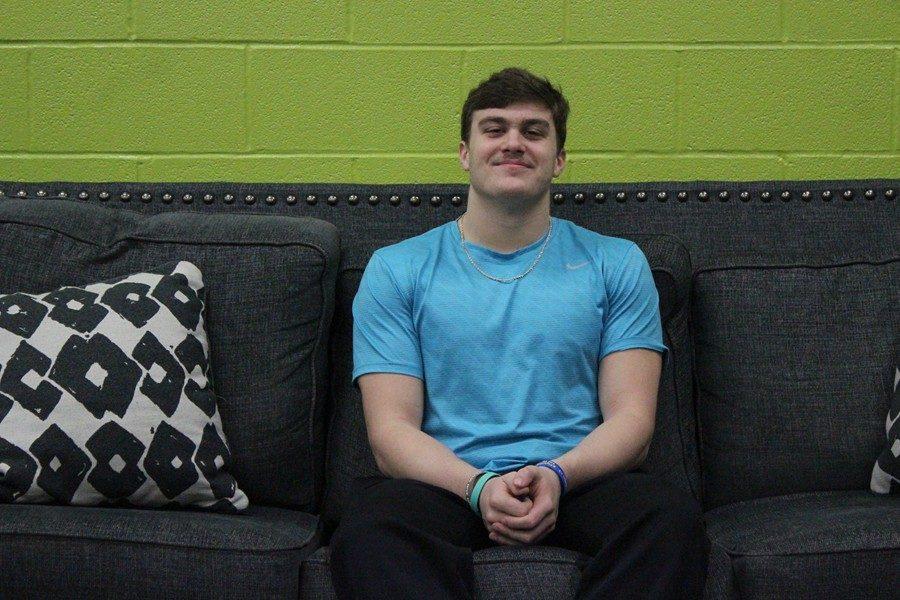 My name is Ethan McGee and I am a senior. This is my second year in BluePrint, although I have been a model for BluePrint pictures since I was a freshman.
I am the Sports Editor, and I mostly cover sports, but have also branched out into news and feature writing.
Through BluePrint, I hope to become an advanced writer.
In 2016, my story on sports injuries was awarded first place at the Keystone Press Awards.
I'm also involved in football, basketball, track, and FCA.
Ethan McGee, Staff Writer
Dec 22, 2020

CHS Forum in Pittsburgh has been canceled

(Media)

May 24, 2017

B-A punches championship ticket

(Story)

May 23, 2017

Experience lifts B-A

(Story)

May 23, 2017

Lady Devils bow out early

(Story)

May 19, 2017

Devils cruise to crushing victory

(Story)

May 18, 2017

Softball steals Backyard Brawl

(Story)

May 12, 2017

Luensmann chooses Juniata

(Story)

May 10, 2017

Devils spear Bulldogs early

(Story)

May 03, 2017

Blue Devils wins seven straight

(Story)

May 02, 2017
May 01, 2017

PHOTOSTORY: CHS public forum debate

(Story)

Apr 26, 2017

B-A secures huge win over Mount Union

(Story)

Apr 25, 2017

Devils tear to 10-0 victory

(Story)

Apr 24, 2017

B-A wins two straight

(Story)

Apr 21, 2017

Blue Devils go yard in ICC showdown

(Story)

Apr 19, 2017

Softball team wins third straight

(Story)

Apr 18, 2017

Taneyhill signs with Lehigh

(Story)

Apr 13, 2017

Devils drop backyard brawl

(Story)

Apr 12, 2017
Apr 05, 2017

Clutch hit propels Devils

(Story)

Apr 04, 2017

Blue Devils shine in Mirror Classic

(Story)

Apr 01, 2017

B-A picks up first win

(Story)

Mar 29, 2017

B-A boys win first meet

(Story)

Mar 27, 2017

Blue Devils fall just short in home opener

(Story)

Mar 21, 2017

Lady Devils fall short of dream run

(Story)

Mar 20, 2017

B-A Cruises past Sacred Heart

(Story)

Mar 17, 2017

B-A dominates Chartiers-Houston

(Story)

Mar 15, 2017

Lady Devils outrun Panthers

(Story)

Mar 06, 2017

Lady Devils fall short of District title

(Story)

Mar 01, 2017

Big Man On Campus: Kamryn Mercer

(Story)

Feb 23, 2017

Lady Devils Stomp Comets

(Story)

Feb 21, 2017

Lady Devils Fall in ICC Championship

(Story)

Feb 14, 2017

Valentines Day Kills

(Story)

Feb 10, 2017

Athlete Of The Week: Colton Gority

(Story/Media)

Feb 09, 2017

Lady Devils hold on, clinching ICC North title

(Story)

Feb 08, 2017

B-A falls to Central Dragons on the mat

(Story/Media)

Feb 07, 2017

Lady Devils sink all Vikings hope

(Story)

Feb 06, 2017

Blue Devil wrestlers manhandle Tussey Mountain

(Story/Media)

Feb 06, 2017
Feb 02, 2017

B-A falls in annual Black and Blue Match

(Story/Media)

Jan 27, 2017

Queen of the county: Karson Swogger

(Story)

Jan 20, 2017

Is overspecializing overdoing?

(Story)

Jan 18, 2017

Freshman rising to the challenge

(Story)

Dec 21, 2016

Steeler's survive gang encounter vs. Bengals

(Story)

Dec 16, 2016

B-A muscles past Claysburg-Kimmel

(Story)

Dec 14, 2016

Grapplers lose to Mo Valley, take 3rd at Conemaugh Twp.

(Media)

Dec 09, 2016

Mr. Harry's creates Maddie Shura tributes

(Story)

Nov 21, 2016

Middle School Students of the Week

(Story)

Nov 21, 2016

Feature Teacher: Mrs. Kelly

(Story)

Nov 06, 2016

Iran said what..?

(Story)

Oct 20, 2016
Oct 07, 2016

The Fugees made an impact on 90s hip hop

(Story/Media)

Oct 04, 2016

Matt Jenkins: never say die

(Story)

Sep 30, 2016

Volleyball team takes down Mt. Union

(Media)

Sep 21, 2016

Circus Rejects: Killer Clowns

(Story)

Sep 19, 2016

Karson Swogger Commits to SFU

(Story)

Sep 13, 2016
Sep 03, 2016

Harambe, a national hero

(Story)

Aug 30, 2016

Hollen wins for co-op tennis team

(Story)

Jun 03, 2016

Brian Leap: Big Ten Champion & going…

(Story)

May 25, 2016

3 Keys to a win over Somerset

(Media)

May 11, 2016

Girls basketball boosters sponsoring 5K race

(Media)

May 10, 2016

Backyard Brawl T-Shirt Contest

(Story)

May 10, 2016

Athlete of the Week: Marissa Panasiti

(Media)

May 04, 2016

Teacher Appreciation Week

(Story)

Apr 29, 2016

Social Media: Which is the best?

(Story/Media)

Apr 29, 2016

ICC champs again!

(Media)

Apr 22, 2016

Ag takes it to the next level

(Story)

Apr 21, 2016

Blair County Leadership looking for interested freshmen

(Story)

Apr 01, 2016

Boys and girls track both earn splits with Hollidaysburg and BG

(Story)

Mar 29, 2016

Sophomore wins national science award

(Story/Media)

Mar 18, 2016

The Final Push: Pop Tabs For Service Dogs

(Story)

Mar 17, 2016

Tech Club brings home the hardware

(Story)

Mar 10, 2016

PJAS finalists move on to states

(Story)

Mar 08, 2016

Bellwood-Antis celebrates Read Across America Week

(Story)

Mar 02, 2016

The emojicon take over!

(Story)

Feb 26, 2016

B-A musicians attend honors band

(Story)

Feb 22, 2016

The Power of Three: 80s metal bands

(Media)

Feb 19, 2016
Feb 08, 2016

Slip under pressure, no more!

(Story)

Feb 04, 2016

Social media weather

(Media)

Jan 29, 2016

Thousand-point scorers to be recognized Saturday

(Media)

Jan 29, 2016

Scholarships ready! For video games…

(Story/Media)

Jan 29, 2016

Myers leads FCA cereal drive

(Media)

Jan 26, 2016

Lady Devils get big win over Lady Bulldogs

(Media)

Jan 22, 2016

Is extra work to much?

(Story)

Jan 21, 2016

National Hugging Day

(Media)

Jan 14, 2016

International Skeptics Day

(Media)

Jan 12, 2016

Just Juniors: Ben Martin

(Story)

Jan 05, 2016
Dec 21, 2015

Aveidum activity fair returns Tuesday

(Story)

Nov 10, 2015

Life Skills Classroom sponsoring Thanksgiving bake sale

(Story/Media)

Oct 20, 2015

Dealing with sports injuries

(Story)

Oct 08, 2015

Taking it too easy

(Media)

Oct 08, 2015

Shine Your Chrome Dome

(Media)

Sep 25, 2015

Quinton Aaron speaks to students at B-A

(Story)

Sep 23, 2015

Sports Roundup: volleyball and XC teams have nice days

(Story)

Sep 22, 2015

How does BA feel about emoji's?:)<3(;<3:)<3;)

(Story/Media)

Sep 16, 2015

Changes in dress code spark student response

(Media)

Sep 09, 2015

Volleyball team downs Tyrone 3-1

(Media)

Sep 03, 2015

Tennis team bags first win

(Story)

Sep 01, 2015

Aevidum to participate in suicide prevention walk

(Story)

Aug 27, 2015

Tennis team loses to Central

(Story)

Apr 07, 2015
Mar 16, 2015

Lady Blue Devils see their season end too soon

(Media)

Mar 13, 2015

Profanity in Literature

(Media)