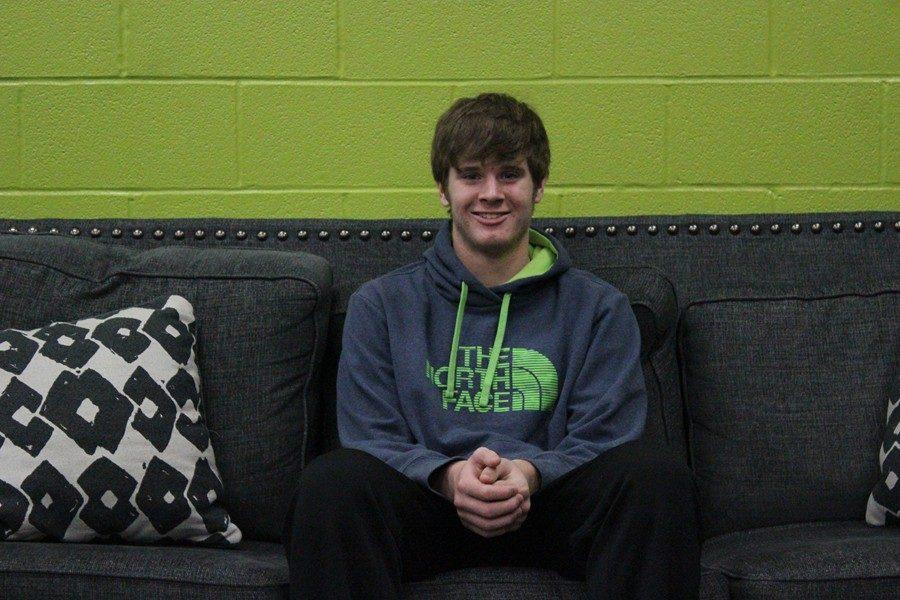 My name is Jarrett Taneyhill and I am the Student Life Editor for the BluePrint. I am a senior, and this is my second year in the class.
I write a variety of stories.  I hope to improve my writing and to contribute to the BluePrint in a positive way this year.
Other activities that I am in include FCA, NHS, football, basketball, and baseball.
Jarrett Taneyhill, Staff Writer
May 04, 2017

MS Students of the Week earn praise

(Story)

Apr 21, 2017

B-A community mourns the loss of Maddie Shura

(Story)

Apr 10, 2017

Misera chosen to represent B-A at Pitt debate

(Story)

Mar 24, 2017

FCA donates more than 1,200 boxes of cereal

(Story)

Mar 23, 2017

Unfinished Business

(Story)

Mar 07, 2017

B-A student leading food packing event

(Story)

Mar 01, 2017

Big Man On Campus: Kamryn Mercer

(Media)

Feb 24, 2017

5 BA students competing at PMEA Regional Chorus

(Story)

Feb 16, 2017

Four musicians advance to PMEA Regionals

(Story)

Feb 10, 2017

Kustaborder wins District speech championship

(Story)

Feb 03, 2017

FCA gears up for cereal drive

(Story)

Feb 02, 2017

ATHLETE OF THE WEEK: Karson Swogger

(Media)

Feb 01, 2017

Students unhappy with decision

(Story)

Jan 27, 2017

PHOTO STORY: Students expressing themselves through Studio Art

(Story)

Jan 26, 2017

Myers artists learn through Studio Art class

(Story/Media)

Jan 22, 2017

BA girls clobber Mo Valley

(Story)

Jan 19, 2017

High school students work through midterms

(Story/Media)

Jan 17, 2017

Lady Devils keep on rolling

(Story)

Jan 17, 2017

Five B-A singers advance to Regionals

(Story)

Jan 11, 2017

FFA receive honors at Farm Show

(Story)

Jan 04, 2017

Revamped to hold concert to benefit Maddie Shura

(Story)

Dec 07, 2016

Cross-Town Basketball opening next week

(Story)

Nov 09, 2016

BAEA set to hold food drive

(Story)

Nov 08, 2016

Bellwood-Antis students participate in mock election

(Story)

Nov 01, 2016

Volleyball team bows out early

(Story/Media)

Oct 25, 2016

Major type of problem

(Story/Media)

Oct 25, 2016

Girls soccer team loses season finale

(Story)

Oct 12, 2016

SPORTS ROUND UP: boys soccer, volleyball both fall

(Story)

Oct 07, 2016

Band goes to Myers to inspire 4th grade students to play music

(Story)

Oct 03, 2016

What's the purpose of education?

(Story)

Sep 19, 2016

B-A administrators, teachers create Darlene Carter scholarship

(Story)

Sep 07, 2016

B-A girls win Volley-Brawl

(Media)

Sep 06, 2016

Parking passes policy

(Story/Media)

Jun 01, 2016

Freedom Ride: the hottest event of the summer

(Story)

May 19, 2016

3 Keys: Joe Padula

(Story/Media)

May 17, 2016

3 Keys to a District title with Marissa Panasiti

(Story/Media)

May 12, 2016

B-A students receive more than $50,000 in scholarships

(Story)

May 10, 2016

Boys track and field team continues tradition

(Story)

Apr 18, 2016

B-A's autistic support room is making an impact

(Media)

Apr 14, 2016

BluePrint continues successful year with PA writing awards

(Story)

Apr 11, 2016

Be kind to animals

(Media)

Apr 08, 2016

Baseball team rebounds with big win over Glendale

(Story)

Apr 04, 2016

Recent budget is only a temporary solution

(Story)

Mar 19, 2016

Remaining faithful in the face of scandal

(Story)

Mar 18, 2016

Promposals on the rise!

(Media)

Mar 11, 2016

Another successful FCA cereal drive in the books

(Story)

Mar 08, 2016

Bellwood-Antis celebrates Read Across America Week

(Story)

Mar 03, 2016

Misera, speech team make waves at regionals

(Story)

Feb 26, 2016

On the Court with Karson Swogger

(Story)

Feb 26, 2016

Students attend Jr. High County Band

(Story)

Feb 22, 2016

B-A students attend famous play

(Story/Media)

Jan 29, 2016

B-A musicians advance to regionals

(Story)

Jan 28, 2016

Blue Band Director to lead PMEA District Band

(Story)

Jan 25, 2016

Ms. Forshey wins Edublog awards

(Story)

Jan 22, 2016

Is extra work to much?

(Media)

Jan 14, 2016

New Health regulations

(Media)

Jan 13, 2016

Blue Devil wrestling excited for Black & Blue match

(Story)

Jan 11, 2016

3 Keys to a Lady Blue Devil victory

(Media)

Jan 08, 2016

Newly released funds provide relief for BASD

(Media)

Jan 08, 2016

Flu Season at BAHS

(Story/Media)

Dec 19, 2015

B-A special education teachers hang tough despite workload and regulations

(Media)

Dec 15, 2015

New scoreboards come to B-A

(Story/Media)

Dec 11, 2015

3 keys: Riley D'Angelo

(Story/Media)

Dec 10, 2015

Student and teacher eligible for awards

(Story/Media)

Dec 08, 2015

The Christmas tree debate

(Story)

Dec 03, 2015

Boys Basketball looks to help local children

(Story)

Nov 24, 2015

B-A hosts Blair County Chorus

(Media)

Nov 23, 2015

Sarcasm makes you smarter

(Media)

Nov 19, 2015

Because You Had A Bad Day…

(Media)

Nov 18, 2015

Mrs. Stinson decides to donate

(Story)

Nov 13, 2015

Class A preview: Marauders are still really good

(Media)

Nov 10, 2015

Veterans Day Assembly

(Story)

Oct 30, 2015

3 Keys: Devin Burr

(Story)

Oct 29, 2015

Bellwood-Antis is ready for any emergency

(Story)

Oct 26, 2015

BAHS recognizes Red Ribbon/Spirit Week

(Media)

Oct 23, 2015

Just Juniors: Max Kimmen

(Story/Media)

Oct 19, 2015

Sensational Sophomore: Chris Wertman

(Story)

Oct 09, 2015

The BluePrint Buzz

(Story)

Oct 02, 2015

National Name Your Car Day

(Media)

Sep 17, 2015

Teen driving

(Story/Media)

Sep 04, 2015

Google tries something new

(Story)

Sep 01, 2015

Mrs. Adams wants more school spirit

(Story/Media)