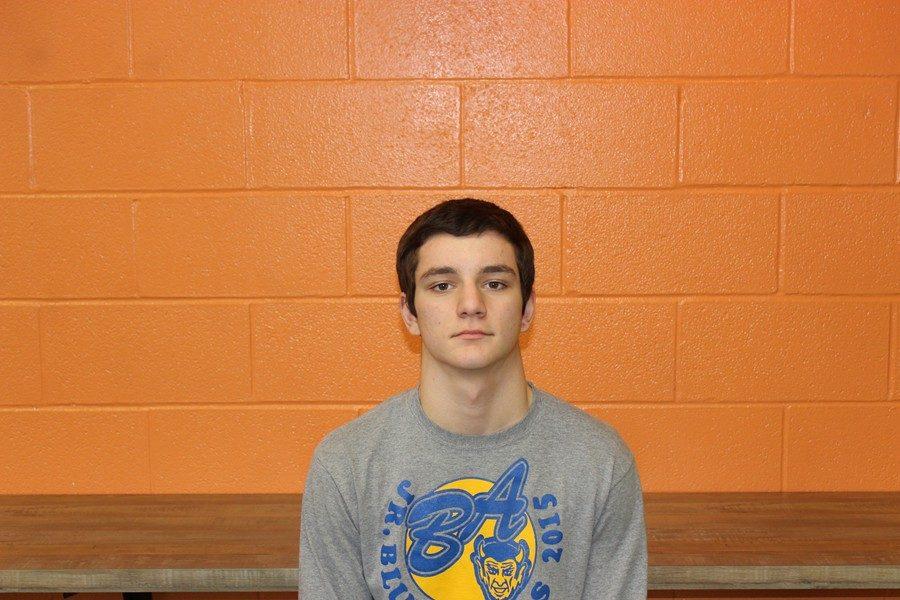 My name is Julian Bartlebaugh, and this is my first year in BluePrint. This is my freshman year.
I joined Blueprint because I wanted to write more, and this year I hope to increase my skill in writing.
I normally write about outside events as well as school, and I have spent the second and third nine weeks doing site updates.
Outside of Blueprint I am involved in football. I also enjoy wrestling.
Julian Bartlebaugh, Staff Writer
May 10, 2020

"A letter home to mom, I love you"

(Story/Media)

Apr 29, 2020

A MESSAGE TO THE WORLD: STAY HUMAN

(Story/Media)

Mar 29, 2020

An open letter to the class of 2020

(Story)

Mar 13, 2020

Community joins together to fight back against abuse

(Story)

Mar 11, 2020

Parents look for answers at heated board meeting

(Story)

Mar 09, 2020

FCA and The Refuge to host "Ask The Pastor"

(Story)

Mar 09, 2020

Lady Devils scrape by in PIAA first round

(Story)

Mar 04, 2020

BA assures students of their safety at school

(Story)

Mar 03, 2020

Rep. Gregory reads to Myers students

(Story)

Mar 02, 2020

Youth suicide rates continue to rise

(Story)

Feb 28, 2020

Charges lead to wrestling coach's dismissal

(Story)

Feb 20, 2020

BA All Academic Team

(Story)

Feb 12, 2020

FEATURED ALUMNI: Comanche Garcia

(Story)

Feb 05, 2020

Blue Devils set up mercy on Senior Night

(Story)

Jan 31, 2020

BA mini-THON to host second movie night

(Story)

Jan 21, 2020

2020 Mini-Thon T-shirts are here!

(Media)

Jan 15, 2020

Confronting Concussions

(Story)

Jan 15, 2020

B-A tries to move forward following board member's arrest

(Story)

Jan 15, 2020

FCA Cereal Drive kicks off

(Story)

Jan 03, 2020

Pellegrine named to two All-State teams

(Story)

Dec 20, 2019

Confronting Concussions

(Story)

Dec 18, 2019

Lady Devils continue ICC domination

(Story)

Dec 06, 2019

MIDDLE SCHOOL ATHLETE OF THE WEEK: Bradyn Partner

(Story)

Nov 21, 2019

Speaker uses humor to promote acceptance

(Story)

Nov 15, 2019

Johnston and Taylor named Mountain League All-Stars

(Story)

Oct 30, 2019

Golden Eagles fall short in District 6 championship

(Story)

Oct 28, 2019

Golden Eagles Look For District Title

(Story)

Oct 17, 2019

John R. Hayes Field At Memorial Stadium

(Story)

Oct 08, 2019

High School Expands Drug Testing Policy

(Story)

Sep 04, 2019
May 29, 2019

ICC ALL-STARS AT B-A

(Story/Media)

May 23, 2019
May 22, 2019

Caden Nagle wins NFF scholarship

(Story)

Apr 22, 2019

Artist in Residence Works With Students

(Story)

Apr 15, 2019
Mar 19, 2019

Roberto Clemente Jr. speaks to B-A students

(Story)

Mar 07, 2019

Speech team wins title; sends three to nationals

(Story)

Feb 22, 2019

Athlete of the Week: Trentin Whaley

(Story)

Feb 06, 2019
Feb 05, 2019
Nov 07, 2018

Mastering High School: How To Study

(Media)

Nov 07, 2018

Hyped over energy drinks

(Story)

Oct 16, 2018

Renaissance Club hosting spooktacular night

(Story)

Oct 03, 2018

Featured Alumni: Frank Dixon

(Story)

Sep 14, 2018

Girls Volleyball Fights For the win

(Story)

Sep 05, 2018
Jun 01, 2017

Gerwert garners silver at PIAAs

(Story)

May 31, 2017

B-A falls in championship

(Story)

May 18, 2017

SPOTLIGHT ON STAFF

(Story)

May 04, 2017

Gerwert, Engle land OJ at B-A Invite

(Story)

Apr 20, 2017

Boys track team continue rolling, girls stay going positive

(Story)

Apr 12, 2017

B-A boys reach milestone, Girls go even.

(Story)

Dec 20, 2016

ATHLETE OF THE WEEK: Emilie Leidig

(Media)

Dec 15, 2016

High school spirit week

(Media)

Nov 09, 2016

SENSATIONAL SOPHOMORE: Alex Frederick

(Story)

Oct 31, 2016

Music made easier

(Story)

Sep 30, 2016

Volleyball team takes down Mt. Union

(Story)

Sep 28, 2016

Blue Devil water boys upholding the tradition

(Story)

Sep 21, 2016

SPORTS ROUNDUP: volleyball team gets back on track

(Story)

Sep 17, 2016

Pokemon Go sweeps the nation

(Story)

Sep 14, 2016
Sep 07, 2016

B-A girls win Volley-Brawl

(Story)

Sep 03, 2016

The hopeful expectations of a freshman

(Story)