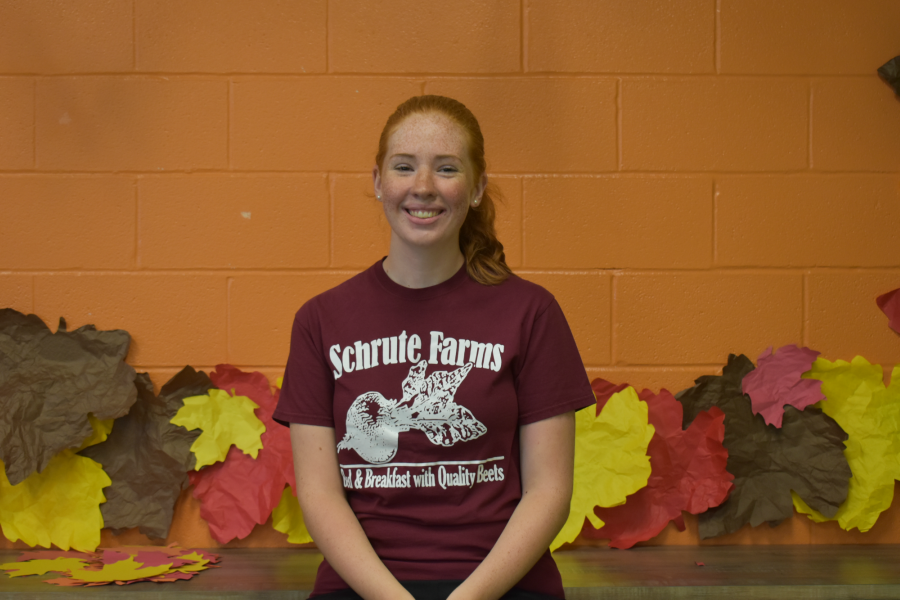 How many years have you been in the Blueprint?

This is my first year in Blueprint.
What would you like to do this year?
I would like to write a variety of stories, and just be part of the award winning Blueprint team.
What grade are you in?
I am
in 12th grade.
Why did you take Blueprint?
I took Blueprint because I really enjoy writing but never had time in my schedule to take Blueprint until this year.
Maggie Erickson, Staff Writer
May 17, 2020

Matt Stinson approved as new Myers principal

(Story)

Apr 28, 2020

B-A teachers balance teaching classes, children remotely

(Story)

Apr 17, 2020

COVID-19 is another in a long line of deadly pandemics

(Story)

Mar 13, 2020

Pair of Bellwood seniors win 1st place at regional PJAS

(Story)

Mar 03, 2020

FEATURED ALUMNI: Tyler Hunter

(Story)

Feb 26, 2020

COLLEGE CORNER: Bella Kies

(Story/Media)

Feb 11, 2020

To vaccinate or not vaccinate

(Story/Media)

Feb 07, 2020

Blue Devil Roundup

(Story)

Feb 07, 2020

COLLEGE CORNER: Adisyn Gilbert

(Story/Media)

Jan 31, 2020

COLLEGE CORNER: Evan Frye

(Story/Media)

Jan 24, 2020

COLLEGE CORNER: Seamus Salmon heads out west

(Story/Media)

Jan 13, 2020

FEATURED ALUMNI: Noah Davis

(Story)

Jan 10, 2020

BLUE DEVIL ROUNDUP

(Story)

Dec 19, 2019

FEATURED ALUMNI: Laura Garber

(Story)

Nov 26, 2019

BASD approves HVAC project

(Story)

Nov 13, 2019

B-A students begin preparation for bocce season

(Story)

Oct 28, 2019

Second annual safe trick or treat set for a spooky night

(Story)

Oct 10, 2019

Rise in teen vaping concerns B-A teachers, officials

(Story)

Oct 02, 2019

Art students brighten the halls with tape art displays

(Story)

Sep 30, 2019

Blue Devil Roundup

(Story)

Sep 16, 2019

PHOTOSTORY: 2019 Homecoming Court

(Story)

Sep 16, 2019

Meet the Homecoming Court

(Story)

Sep 06, 2019

BLUE DEVIL ROUNDUP

(Media)

Sep 13, 2016

9/11 to me: voices of the next generation

(Story)

Feb 24, 2015

Jr. high girls' basketball team captures ICC Championship

(Story)

Feb 06, 2015

BAMS student and teacher duo win Edublogs Awards

(Story)

Dec 09, 2014

BAMS student nominated as Edublogs Award finalist

(Story)

Nov 21, 2014

Bellwood-Antis is Team Donovan!

(Story)

Oct 21, 2014

A day in the life of a scientist

(Story)

Apr 16, 2014

Who is Rescuing Who?

(Story)