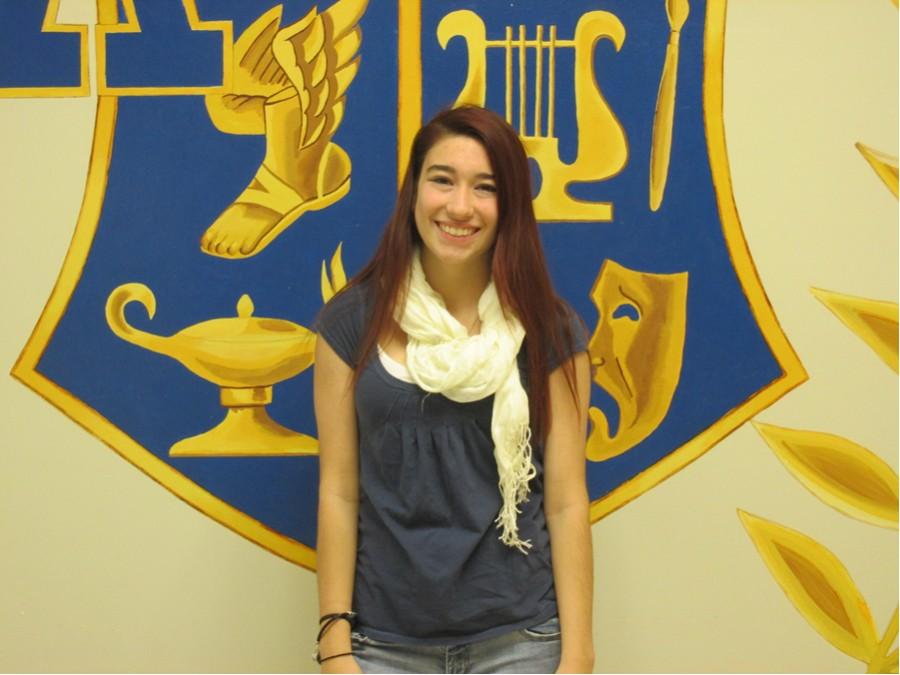 Hi!  My name is Sapphire McCready. I am 17 and a senior at Bellwood-Antis High School.  This is my second year being a part of the Bellwood-Antis BluePrint.
This year, I have also become the staff's primary sports editor and sports reporter, covering all of the winter sports.
In the past I had covered new and current events happening with students at Bellwood.  I also sometimes take pictures to post on our Instagram page.
I bring creativity and a sense of individualism to the BluePrint.   I am involved in cheerleading, Aevidum, Big Brothers Big Sisters, Chorus, and Relay for Life. I really enjoy being creative and I love writing.  I'm so happy we have a program that can let us express ourselves my last year.
"Journalism never admits that nothing much is happening."
Sapphire McCready, Sports Editor
Jun 01, 2015

Fab Freshman: Grant Beeler

(Story)

May 22, 2015

Baseball team advances to the District championship

(Story)

May 21, 2015

Kindergartners go to Hawaii on virtual trip

(Story/Media)

May 15, 2015

Baseball team advances to quarterfinals

(Story)

May 13, 2015

B-A track team members bring home medals.

(Story)

May 08, 2015

Baseball and softball teams get victories

(Story)

May 07, 2015

Softball team suffers tough loss

(Story)

May 06, 2015

Softball team gets No. 100 for coaching staff

(Story)

May 06, 2015

Perfection: Luensmann K's 14 of 15

(Story)

May 05, 2015

Boys track brings home ICC title

(Story)

May 05, 2015

Damiano breaks own record at WCCM

(Story)

May 02, 2015

#CrookieMonster steals a spot on Pitt team.

(Story)

May 01, 2015

Baseball team brings home an ICC win

(Story)

Apr 30, 2015

B-A boys and girls grab ICC titles

(Story)

Apr 30, 2015

Luensmann collects his 100th career hit

(Story)

Apr 29, 2015

Anna Wolfe cracks her 100th career hit

(Story)

Apr 29, 2015

Baseball team thumps Glendale

(Story)

Apr 28, 2015

Boys' track team places second at B-A invitational

(Story)

Apr 28, 2015

Baseball team improves its record against St. Joseph's

(Story)

Apr 27, 2015

B-A senior close to smacking her 100th hit

(Story)

Apr 24, 2015

Baseball team is in the driver's seat for the ICC

(Story)

Apr 23, 2015

Fab Freshman: Ryan Sheaffer

(Story)

Apr 22, 2015

Softball team shuts out Juniata Valley.

(Story)

Apr 21, 2015

B-A student-athletes earn special recognition

(Story/Media)

Apr 20, 2015

Softball team places second at weekend tournament

(Story)

Apr 17, 2015

Baseball team wins game over West Branch

(Story)

Apr 16, 2015

Softball team continues to improve their record

(Story)

Apr 15, 2015

Blue Devils get their mojo back

(Story)

Apr 14, 2015

Boys track team takes first at United

(Story)

Apr 14, 2015

Softball team stays on hot streak

(Story)

Apr 13, 2015

Baseball team suffers its first loss against Tyrone

(Story)

Apr 08, 2015

Blue Devils stay in front of ICC

(Story)

Apr 07, 2015

Blue Devils remain undefeated

(Story)

Apr 02, 2015

Zayn's departure sparks mayhem in America's teens

(Story/Media)

Apr 01, 2015

Blue Devils get huge ICC win over Mount Union

(Story)

Mar 30, 2015

Bellwood-Antis Baseball teams continue the season off right.

(Story)

Mar 30, 2015

Bellwood-Antis track members place in Igloo Meet

(Story)

Mar 27, 2015

Finn cracks hit No. 100 in suspended game

(Story)

Mar 27, 2015

Baseball boys take down Juniata Valley

(Story)

Mar 25, 2015

Lady Blue Devil softball team kicks off season

(Story)

Mar 21, 2015

The future seems bright for the basketball players

(Story)

Mar 16, 2015

Lady Blue Devils see their season end too soon

(Story)

Mar 13, 2015

Lady Blue Devils prepare to face defending champs in Elite 8

(Story)

Mar 11, 2015

Lady Blue Devils shoot down the Lady Bucs in states

(Story)

Mar 10, 2015

The Lady Blue Devils prepare to take on the Lady Bucs

(Story)

Mar 10, 2015

Lady Blue Devils continue on into the second round of playoffs

(Story)

Mar 06, 2015

Blue Devils prepare to face Bulldogs in states

(Story)

Mar 06, 2015

Lady Blue Devils looking for redemption

(Story)

Mar 02, 2015

Lady Blue Devils fall to Bishop McCort

(Story)

Feb 27, 2015

Lady Blue Devils get prepared District 6 AA Championship

(Story)

Feb 26, 2015

Lady Blue Devils get title shot from rivalry game

(Story)

Feb 25, 2015

B-A/Tyrone Part 2: Running back a rivalry

(Story)

Feb 25, 2015

The Blue Devils Crush the Crushers

(Story)

Feb 24, 2015

The Lady Blue Devils advance into the Semifinals

(Story)

Feb 20, 2015

Fab Freshmen: Kayla Beichler

(Story)

Feb 17, 2015

The Blue Devils will continue on in the District 6 Championship

(Story)

Feb 17, 2015

Lady Blue Devils become ICC Champions

(Story)

Feb 12, 2015

The Lady Blue Devils continue run to a championship

(Story)

Feb 11, 2015

Blue Devils knock out the Knights

(Story)

Feb 10, 2015

The Lady Blue Devils put the Lady Damsels in distress

(Story)

Feb 09, 2015

Blue Devils become ICC champions on Senior Night

(Story)

Feb 06, 2015

The Lady Blue Devils get their 17th straight win over the Lady Pirates

(Story)

Feb 05, 2015

Lady Blue Devils top the Hilltoppers

(Story)

Feb 04, 2015

Blue Devil boys basketball team avenges loss to Trojans

(Story)

Feb 03, 2015

Blue Devil hoops squads continue to push towards District title

(Story)

Feb 01, 2015

Just Juniors: Hayden Mcclellan

(Story)

Jan 29, 2015

Blue Devils come out on top against Hornets

(Story)

Jan 27, 2015

The Blue Devil basketball teams continue their winning streaks

(Story)

Jan 23, 2015

Golden Eagles take down the Blue Devils

(Story)

Jan 21, 2015

Wrestlers pin loss on Juniata Valley for first win

(Story)

Jan 20, 2015

B-A tackles three games in less than a week

(Story)

Jan 14, 2015

Lady Blue Devils sink Williamsburg Pirates

(Story)

Jan 06, 2015

Bellwood-Antis beats St. Joseph Academy

(Story)

Dec 23, 2014

Fab Freshman: Tyler Hoover

(Story/Media)

Dec 23, 2014

The Bellwood-Antis Blue Devils are at it again!

(Story)

Dec 22, 2014

Impossible to beat!

(Story)

Dec 19, 2014

Claysburg-Kimmel beats the Blue Devils in wrestling.

(Story)

Dec 17, 2014

Blue Devil basketball is on fire!

(Story)

Dec 16, 2014

B-A Basketball does it again!

(Story)

Dec 15, 2014

The basketball teams get yet another victory!

(Story)

Dec 10, 2014

Lady Blue Devils get big win over rival!

(Story)

Dec 08, 2014

Basketball Season is Upon Us

(Story)

Dec 05, 2014

Aevidum set to host first Activity Fair

(Story)

Nov 18, 2014

BA's annual powderpuff game!

(Story)

Nov 18, 2014

Fab Freshmen: Kyra Woomer

(Story)

Oct 29, 2014

Cheerleaders host benefit dance for Dominick DeVecchis

(Story)

Oct 23, 2014

Tyrone edges Bellwood-Antis in Instagram War

(Story)

Oct 21, 2014

Bellwood students wrap up PSAT

(Story)

Oct 09, 2014

B-A sophs Jacob Hoover and Amanda Wertz show their skill with a rifle

(Story)

Oct 08, 2014

Administrators reflect on the departure of Mrs. Hartsock

(Story)

Sep 26, 2014

Super Seniors – Sean Harrity

(Story)

Sep 26, 2014

Cell phone addiction

(Story)

Sep 05, 2014

Feature Teacher: Ms. Hull

(Story)

Jun 04, 2014

Sensational Sophs: Justin Gunsallus

(Story)

May 30, 2014

NHS Members Honor Veterans

(Story)

May 30, 2014

Lingenfelter Slated to Speak at Commencement

(Story)

May 20, 2014
May 12, 2014

BYOD: Can Bringing Electronics to School Work at B-A?

(Story)

May 12, 2014

Sensational Sophs: Zane Wenner

(Story)

May 06, 2014

Stars of Annie Anxious to Get Started

(Story)

Apr 14, 2014

Sensational Sophs: Woot, Woot for Kala Wooten

(Story)

Apr 11, 2014

Miranda Lowery Chosen to Debate at North Allegheny

(Story)

Apr 02, 2014

Hug an Australian

(Story)