Family Matters
February 5, 2019
For many coaches on the high school level, a big issue is family matters.
"
There is a lot of stress in not seeing your family, and quite honestly that is the biggest downside of coaching.
— Coach Conlon
Bellwood-Antis boys basketball coach Kevin Conlon said, "There is a lot of stress in not seeing your family, and quite honestly that is the biggest downside of coaching.
"I am married with two young daughters and during basketball I don't get to see them nearly as much as I should. My work schedule keeps me out most days until 5 and then practice until 8:30 and it is hard to spend quality time at home."
Coach Swaney isn't different in that sense.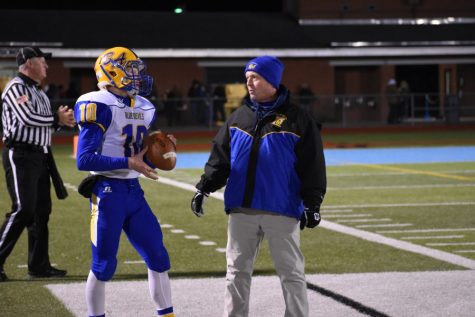 "That is one of the hardest things about coaching," said Coach Swaney, who was raising young boys while coaching at Tyrone in the 1990's. "I remember days in the 80's and 90's when I had a game and my wife was loading two small kids into a car and going to another gym to film for me. Without the support of your family this job is impossible."
B-A football coach Nick Lovrich said family plays a very supportive role in his coaching, but it can also bring personal stress.
"It makes me feel bad sometimes that I spend more time with everyone else's kids than my own," said Coach Lovrich, who has a wife and two daughters.
"Coaching takes up a lot of time both during the season and the off-season, so it does make it hard when you have a family, especially when you have kids.  My daughter Alexis played volleyball the last two years and I think I saw her play one time in two years, so I have to miss out on a lot of things because of my coaching."
While Coach Lovrich misses out on a lot, he said his family is understanding of his position and are supportive.  
"Luckily, I have a great support system at home. My wife, Missy, was a former coach so she understands what it takes to be a coach.  Our families are very helpful while I am coaching too, so that helps make things a lot easier for me to be able to coach."
Even with a great support system, Coach Lovrich recognizes stress can extend to his family.
"I am sure it is tough for them to sit in the stands and hear people say negative things about me or our team or for my daughters to be known as Coach Lovrich's kids, which could be good or bad for them at times," said Coach Lovrich. "The support system at home is probably the biggest thing for me.  My wife and daughters are very supportive of me coaching and that keeps some of my stress away. I think some of my personality traits help too."
Head softball coach Jim Payne circumvented the pressures of coaching life and family life by combining them.
"Having Taylor and Ashtyn play for me has been the best thing a father could ask. (My wife) Wendy has enjoyed being a mom who stays back and lets her kids shine. Basically softball has come to define our family and we are okay with that," said Payne.