About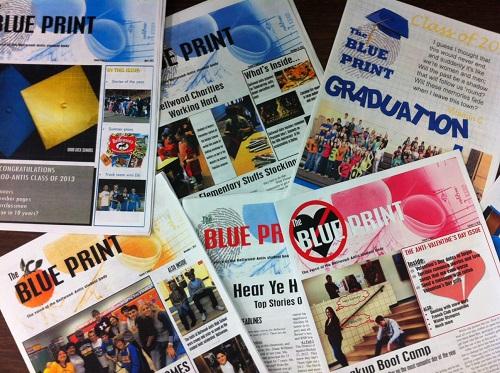 The BA BluePrint prides itself on being the voice of the student body for the Bellwood-Antis School District in Bellwood, PA.
A district that enrolls approximately 1,300 students from Kindergarten through twelfth grade, Bellwood-Antis is a rural school located in northern Blair County between Altoona and State College.
Our website first launched in the spring of 2014 as a part of the Student Newspapers Online (SNO) network.
In just over nine  years of existence we have been fortunate to have received many accolades, most notably being named the top high school news website in Pennsylvania by the Keystone Press Awards in 2017 and 2018. We were runners-up in that category in 2016, 2021, 2022, and most recently in 2023.
We have been recognized as a Distinguished Site by SNO seven straight years from 2015 through 2021, and we are currently working towards this status once again this year. We have also had 30 writers recognized by SNO in its Best of SNO forum, a website that features the top stories by student writers from its network from across the country.
With the success of the site as a whole has come success for individuals, as well. In 2016, the Keystone Press Awards honored three writers in a variety of categories, including Ethan McGee, who won first place in the sports story category.
Later that same year, we had two writers recognized by the PA Press Club for feature and blog writing.
In 2017 with our site's added emphasis on multi-media, Kaelynn Behrens received several awards for her video work from the PA Press Club and the Edinboro University Media Awards.
In 2018, three more writers won awards from Keystone Press, headed by Jake Miller placing second in the sports writing category. Later, Miller, Quintin Nelson and Julie Bauer each took first place in a variety of categories from the Pa. Press Club Awards.
In 2020 Jackson Boyer, Haley Campbell, Julian Bartlebaugh and Maggie Erickson earned awards from both the Keystone Press and Pa. Press Club despite having school cut short by the global coronavirus pandemic. This year, the BluePrint found its way back among the top student-run websites in Pennsylvania, being named the No. 2 overall site by the Keystone Press Awards. That makes four top two finishes in six years.
In 2022, Julius Diossa was recognized by the Pa. Press Club for the top high school sports story with a piece written about an injury that derailed a classmate's senior football season.
Most recently, in 2023 Jacob Hawn had his sports story on the shortage of PIAA referees in Pennsylvania earn the award for best sports story from both the Keystone awards and the Pa. Press Club. Bailee Conway had her story on the lingering effects of COVID on education named the best news story by the Pa. Press Club. Finally in 2023, Olivia Hess won the regional PSPA news writing contest in the category of news before finishing third in the Pennsylvania contest at Penn State University.
Part of our success in our local community has come from our presence on social media, where we are able to share links to stories and draw viewers to our site. We currently have more than 2,600 combined followers on Facebook, Twitter, and Instagram.  We have found Facebook to be our number one tool for reaching parents and members of the community who no longer have children in the district. Both Instagram and Twitter, meanwhile, have proven invaluable in allowing us to not only share stories but to provide our followers with immediate reports on stories that impact their lives, like school delays and closings and sports scores.
Until 2014 the BluePrint was a traditional tabloid format newspaper, published once every two weeks and distributed for free to the student body. However, when the opportunity came along to move to an online format we jumped into it 100 percent and ended the paper version of our publication.
In so many ways that decision has been incredibly successful. Our reporters now face a sense of urgency every day to tell the stories living out in the hallways of our three schools in a timely fashion. We recognize that we have a unique opportunity to tell the stories that may also be told by professional news outlets, especially in our sports coverage, and that our position as a newspaper residing in the school district allows us to have close access to our subjects that other publications may not have.  Above all, the move to publishing online has forced students to look critically at their writing and the writing of their peers to ensure that what they are producing is correct and well-written. We emphasize every year that once a story is published on the internet and shared on social media, it is going to undergo scrutiny, and it's better to be right than first; the goal is to provide accuracy and quality.
It's all a part of a continuing process of evolution for student-run news at B-A.
While student-run media isn't anything new at Bellwood-Antis, the BluePrint, relatively speaking, is. Before the BluePrint, B-A's student news came from the Hylite, a student newspaper that made its debut in the 1950s and run for years by retired teacher Susan Kovensky.
In 2010, Kerry Naylor took over the Hylite, and the small staff of five senior girls decided to give the venerable newspaper a makeover, starting with the name.  The staff chose the name the BluePrint for several reasons. One was that the staff saw it as a way for the Class of 2011 to make its mark on the student body for years to come. A second reason was that the staff saw the newspaper as a kind of template for recording student activities across the school district. And since blue is the dominant color of Bellwood-Antis, the name BluePrint, originally submitted by Tabi (Taylor) Melhorn, seemed appropriate.
The staff also determined that, in print form, the BluePrint could not be a strictly news publication.  The goal was to publish two issues per month, which meant that much of what was covered would not be news by the time editions reached the press. So the staff decided to develop the BluePrint as a feature story tabloid that highlighted the people and events of Bellwood-Antis.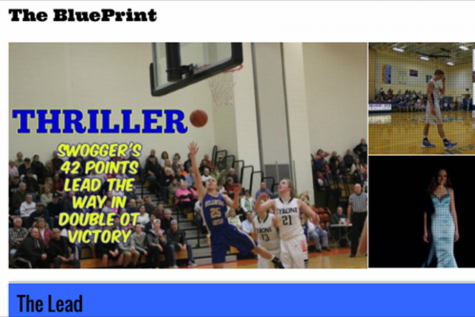 That philosophy changed with the launching of the BluePrint online in April 2014. Our goal is now two-fold: not only do we continue to highlight the people and events of the Bellwood-Antis School District through feature writing, but we are also be on the cutting edge of late-breaking news that affects the entire B-A student body and community, at Myers Elementary, at the middle school, and of course at the high school.  We also strive to communicate with our followers through social media, which includes Facebook, Twitter, Instagram, and more recently through Vine and Snapchat.
The BluePrint is now advised by Kerry Naylor, who handles the BluePrint stories and features through his Journalism/BluePrint class.
Several students have played important roles in the evolution of Bellwood-Antis student-run media from the Hylite to its latest and most exciting incarnation. These include:
The BluePrint class of 2013-2014, which was the first to publish an online newspaper at the school: Tyler Talmadge, Sierra Yingling, Nick Torsell, Aaron Garland, Shalby Figard, Shania Miller, Kara Browder, Jessica Fogle, Autumn Harlach, Emilee Astore, Phoebe Potter and Myranda Mamat.
The editors to lead the BluePrint include:
2010-2011 – Krissy Rhuele and Tabi (Taylor) Melhorn
2011-2012 – Jessica Focht
2012-2013 – Madi Steinbauer
2013-2014 – Tyler Talmadge
2014-2015 – Emily Wagner (photos), Sapphire McCready (sports) and Alexis Mayhue (The Daily Dish)
2015-2016 – Christina Kowalski (social media and sports), Phoebe Potter and Myranda Mamat (The Daily Dish), Hannah Klesius (Blogs), Tierra Mahute (photos), Jarrett Taneyhill (news), Ali Wagner (Vine editor)
2016-2017 – Jarret Taneyhill (Student Life), Sidney Patterson (The Lead), Ethan McGee (Sports), Kaelynn Behrens (Video/College Corner), Phoebe Potter (Photos), Ali Wagner (Photos), Jami Daley (Features), Brianna Reiter (Social Media), Juliana Norris (Page Editor).
2017-2018 – Sidney Patterson (Editor in Chief), Kaelynn Behrens (Multimedia Editor), Julianna Norris (Page Editor), Jake Miller (Sports Editor).
2018-2019 – Kaelynn Behrens (Editor in Chief), Mya Decker (Multimedia Editor)
2019-2020 – Julian Bartlebaugh (Editor in Chief)
2020-2021 – Haley Campbell and Caroline Nagle (Co-editors)
2021-2022 – Jack Luensmann (Editor in Chief)