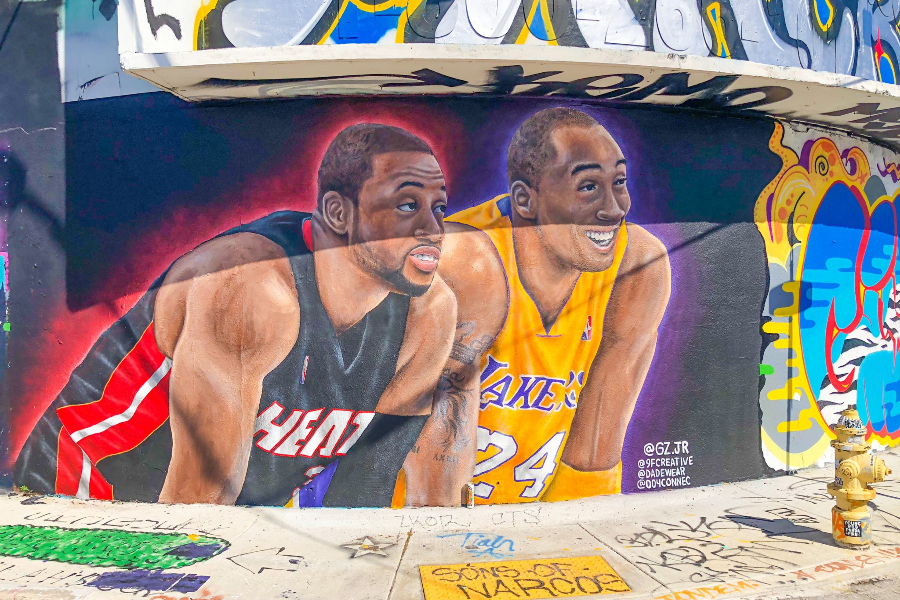 KOBE'S DEATH FELT AROUND THE GLOBE
January 30, 2020
Sports fans around the world were stunned Sunday with the news of the death of NBA basketball star Kobe Bryant, who was in a fatal helicopter crash with six other passengers, including his daughter, Sunday in California.
Bryant left a lasting legacy that was recognized and appreciated by millions of Bryant's adoring fans and by students at teachers at Bellwood-Antis, as well.
BluePrint writers Jacob Bollinger and Travis Luensmann tried to capture to mood of B-A students and athletes, as well as the rest of the sporting community, in the days after Kobe's tragic death at age 41.
Impact of Kobe's death felt locally
NBA legend Kobe Bryant and his daughter Gianna, along with 7 others,  died in a helicopter crash Sunday afternoon is Calabasas, California.
The group was headed over to Kobe's "Mamba Academy," in Thousand Oaks California for Gigi's game, with Kobe expected to coach. Traveling by helicopter around LA was something Kobe has been known to do regularly. He even took helicopters to he to his games back in 2016.
The death of the Black Mamba has impacted millions, starting with the people of Los Angeles and Laker nation, the NBA and sporting community, and even those in other countries. But Bellwood has felt the impact as well, especially those involved with the game of basketball.
Hundreds of fans gathered Sunday at the Staples Center to honor the legend. Most notably, teams during Sunday's NBA games started the game off with a 24 second shot clock violation in memory of Kobe, who wore the number 24 for a number of years.
People in LA now wake up with a different feel to everything. Something missing, something that brought the city together. Kobe spent his life redefining and living a style that truly credits one to be admired, and this has become known and coined today as the "Mamba Mentality."
Kobe was respected as much for what he did off the court as on, for his dedication and passion for the game, along with his sense of care and love for others. Kobe could be described as giving as many memories as he did to giving time to others. He was just as much of an NBA superstar as he was your friend, and that's why Los Angeles is at a loss for words.
"It's unreal," many will say, since most of us grew up watching the teenager evolve into the Black Mamba, as he will be remembered. Bryant seemingly still had the second half of his life to live out. In 2018 even, he took home an Oscar for his film "Dear Basketball."
In the NBA, former teammates, coaches, and current players have spoken out in interviews and on social media about the loss of Bryant.
Laker teammate Shaquille O'Neal said: "I haven't felt a pain this sharp in a while..it definitely changes me."
LeBron James, the current Laker phenomenon said in an Instagram post: "I'm Not Ready but here I go. Man I sitting here trying to write something for this post but every time I try I begin crying again just thinking about you, niece Gigi and the friendship/bond/brotherhood we had! I literally just heard your voice Sunday morning before I left Philly to head back to LA. Didn't think for one bit in a million years that would be the last conversation we'd have. WTF!! I'm heartbroken and devastated my brother!!"
Doc Rivers, coach of the LA Clippers told the LA Times: "I told our guys before the game, I don't know how you handle this, it's such a shock," some of you may not feel anything right now. It may come out during the game. We're not prepared, nobody is for tragedies like this. Nobody is."
Back across the country, people here in B-A are feeling the effects of the loss, as well.
Head football coach and track and field coach, and also former girls basketball coach Nick Lovrich weighed in on the Mamba.
"I saw him as a younger person and watched him mature throughout the years," Coach Lovrich said." He will have a lasting impact on the NBA community as well as the city of Los Angeles and Philadelphia. His legacy is touching, and experiencing him and his daughter pass, while being a parent myself, make you truly think what you would in these situations."
Ali Stinson, a former basketball player and now mentor of the game also expressed her feelings for Kobe, saying: "To be honest, I am not a huge NBA fan so my appreciation for Kobe Bryant didn't start because he was an amazing basketball player.  Of course, I watched as he won his five championships with the Lakers and various other awards over his amazing 20 year career, but it was because of the things that he did off the court that I will forever remember him as a true legend.
Mrs. Stonson said she admired Kobe's selfless nature.
"I have heard countless stories about the patients that he visited while in the hospital (he only agreed if there was no PR), the foundation that he started which was dedicated to improving the lives of youth and families in need by providing resources and developing unique programs that helped to strengthen and enrich communities through education and cultural opportunities, his Mamba Sports Academy that gave so many people an opportunity to unlock their full potential and especially, the special bond that he had with 'his girls,'" she said. "It has been said that legends never die, and I truly believe that Kobe's legacy is just getting started.  The impact that he had on millions of people will surely be shared in the days, weeks, months and for years to come. His dedication, perseverance, relentless pursuit of excellence and genuine kindness will inspire and motivate others in all facets of life forever. His Mamba Mentality embraced the importance of constantly working to be the best version of yourself. If nothing else, I think we can all agree that this type of mentality is essential in life…don't take one second for granted, love with your whole heart, and find the things that inspire you and do them with passion and joy."
Another Kobe fan, sports junkie, and current coach of the game,  Mr. Kerry Naylor, put in his thoughts towards the situation.
"Kobe's impact of the game was significant. He came along to take over after Jordan, and became the bridge between Michael's era and the new era," he said. "I loved to watch him play, and I can remember watching him play on PCN in 1996 to win a state title in Hershey playing for Lower Merion. I would remember hearing people talk about this kid from Philly, and how he was going straight to the pros. The Kobe we saw later in life was an evolving family man. He lived through his share of trouble and controversy, but no one deserves to be judged by the worst moment in their life. He went beyond it, and at 41, you are just beginning to live and figure things out and blossom. That's where he was, he was becoming an icon."
In addition to teachers facing the impact, players on the girls and boys Blue Devil basketball squads are experiencing the casualty as well. Here is what they had to say:
Alli Campbell: "Kobe was so much more than a basketball player. He was the ultimate competitor and role model, as well as a great father. Something I truly admired and appreciated about him was that he was a huge advocate and supporter of women's basketball. The game will miss him, but he will never be forgotten."
Trenton Pelligrino: "Kobe is not just an inspiration to basketball fans but to everyone. He was always about the grind. Coach Cassidy told us about his blackout workouts. The blackout workout was when he pushed himself for 6 hours straight and he tried to make himself blackout. He was just the definition of determination, Kobe was a true inspiration."
Whether or not you're a sports fan or not, Kobe was more than an athlete who was just as inspirational on the court as he was off it. He will continue to live in the hearts of others, encouraging and influencing those for a positive present and future. The time he spent on this earth was filled with service to his family as a father and husband, as well as a public icon for Los Angeles and the entire world. His passion and drive found in the Mamba Mentality will remain as a head stone for greatness, and his humbleness will serve as his true character. Kobe Bryant was a different person without a doubt, and will always represent the purple and gold.
Leave a Comment
Remembering Mamba
On June 26, 1996 the game of basketball was forever changed when a wide eyed 17-year old kid by the name of Kobe Bryant was drafted 13th overall by the Hornets, and was later traded to the Los Angeles Lakers, where he would spend his entire career in purple and gold. 
Kobe was truly a master at his craft. In his 20 years in the NBA Kobe was a five-time NBA Champion, two-time Finals MVP, 18-time All-Star, and two time Gold medalist, but his greatest achievement was being a father. 
Being a professional athlete can be one of the most demanding jobs, and the travel aspect of it can put a lot of stress on a family, but for Kobe family came before basketball. "Christmas morning, I'm going to open presents with my kids. I'm going to take pictures of them opening their presents. Then I'm going to come to the Staples Center and get ready to work," said Kobe.  Any free time he had he spent with his wife and children, whether it was going out for a family dinner or putting up a couple shots with his 13 year old daughter Gianna who loved the game of basketball as much as her father. 
When the news of Kobe Bryant's death came out it felt like the world sort of stopped. I was never a die hard fan, but Kobe was bigger than the game of basketball, and people knew that. Kobe inspired millions of people, not just athletes, but real people all across the world. For me a person who was the caliber of Kobe seemed to be indestructible, he was truly the closest thing to Superman, and it's difficult to realize that he's gone. 
Some more tragic news came later Sunday when it was released that Kobe's daughter Gianna was on the helicopter that day on her way to a basketball tournament with fellow teammate, Alysa Altobeli and her parents. 
As the news spread, so did the condolences from celebrities and fans all across the world, but one of the most heartfelt came from Shaquille O'Neal, who was a former teammate of Kobe. "The fact that we're not going to be able to joke at his Hall of Fame ceremony. The fact that we're not going to be able to say 'Ha ha, got five. You got four.' The fact that we're not going to be able to say 'If we would have stayed together we could of had ten,' those are the things we can't get back," said Shaq.
For all the NBA games this week there have been moments of silence to honor Kobe, including some teams that took 24 second shot clock violations to show their respects. Players all across the country wrote heartfelt messages on their shoes before their games, including some here at Bellwood-Antis, but some of the athletes in the NBA who previously wore the number 8 or 24 have switched to other numbers in honor of the late Kobe Bryant. 
Since Sunday the price of both Kobe's jerseys and signature shoes have skyrocketed. Jerseys are now up to $300, almost doubling in price, and his shoes are in the thousands. A lot of shoe stores are refusing to purchase or sell Kobe shoes at a higher price than what they were before his death. Jaysse Lopez is the founder of a multi-million dollar company called Urban Necessities. Lopez made a statement saying that the store would refuse to raise its prices in the wake of the basketball stars death. "Not how I built my brand or how I need to make a dollar," said Lopez in a comment on his decision. 
All of those who were lost in the tragic accident will be dearly missed, and we all keep them and their loved ones in our thoughts and prayers. 
Leave a Comment