CHANGE FROM THE PAST and CURRENT STRUGGLES
January 25, 2022
Based on just the eye test, the numbers of students participating in sports seem to have been higher in all sports at B-A years ago. Team pictures found in the Tuckahoe yearbook from the 80s and 90s feature more players than teams of today, and taking into consideration that freshman are more involved now, it gives the impression that numbers are dropping for high school sports at Bellwood-Antis.
In 1986, the Blue Devil wrestling program had 36 participants in varsity and junior high combined. Today, there are 15 wrestlers overall in the entire program, and most matches are lost because the Devils cannot fill weight classes and are forced to forfeit. In 1990, the football team fielded 50 players, which outnumbers the current team, which had 47 players in 2021.
When talking about female sports, Bellwood-Antis used to field 50-player field hockey teams in the 80s and 90s, which outnumbers all four fall sports that Bellwood offers for girls now. What makes these numbers more significant is that today's teams use all four grades while the past teams only had players from grades 10-12.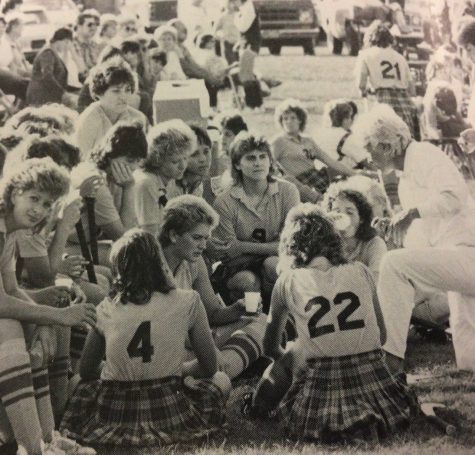 "There wasn't much to do in those times. Nobody had phones and not a lot of kids worked," said Nick Lovrich, B-A's football and track coach who was a Blue Devil athlete during the 1990s.  "Also, there were a lot less options, with cross country, soccer, and swimming being added recently."
One sport that has remained strong throughout times is varsity basketball, which actually has more players today than previous years. Overall however, all signs point to there being a slight decline in sports participation at B-A.
Bellwood-Antis Baseball coach Steve Conlon doesn't experience any participation issues, but notices the problem elsewhere.
"We've always had solid baseball numbers here at Bellwood, but other schools in our area certainly struggle to bring together teams. When we head to Glendale or Williamsburg, they struggle to get 10 or 11 kids to come out for baseball," Conlon stated.
Burch also noticed that students' interests are reaching outside of what the school has to offer.
"Some students have other interests that do not involve sports, while some students like to specialize in one sport, and that has impacted us at times at Bellwood-Antis." Burch stated.