COUNT YOUR BELSSINGS AND LEAN ON YOUR SUPPORTERS
January 30, 2023
Myers principal Mr. Matthew Stinson said the key to avoiding burnout is finding a balance between work and home, which isn't always easy. During his early years in administration, Mr. Stinson said he was "totally consumed by work and didn't feel like [he] was able to find a good balance of work and being present at home to enjoy [his] family and other activities outside of the school."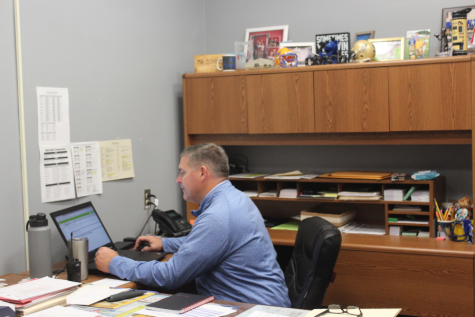 While he understands completely, why administrators are deciding to retire early or find another profession, Mr. Stinson said he has a cheerleader, rock, and support system all in one: his wife, Mrs. Ali Stinson. Mrs. Stinson works at Bellwood as a math teacher, Renaissance Club advisor, and Yearbook advisor.
"She keeps me focused and is always there to listen and help me. Family is everything," Mr. Stinson said.
Though a glance at the data could make staff, students, and parents question the longevity of Bellwood's current leadership, unease is nonexistent with these leaders who are devoted to the brick and mortar buildings on Martin Street that are filled with students every morning.
Mr. Schreier said he is thankful for the Bellwood students and staff that surround him every day from 7 a.m. to 3 p.m.