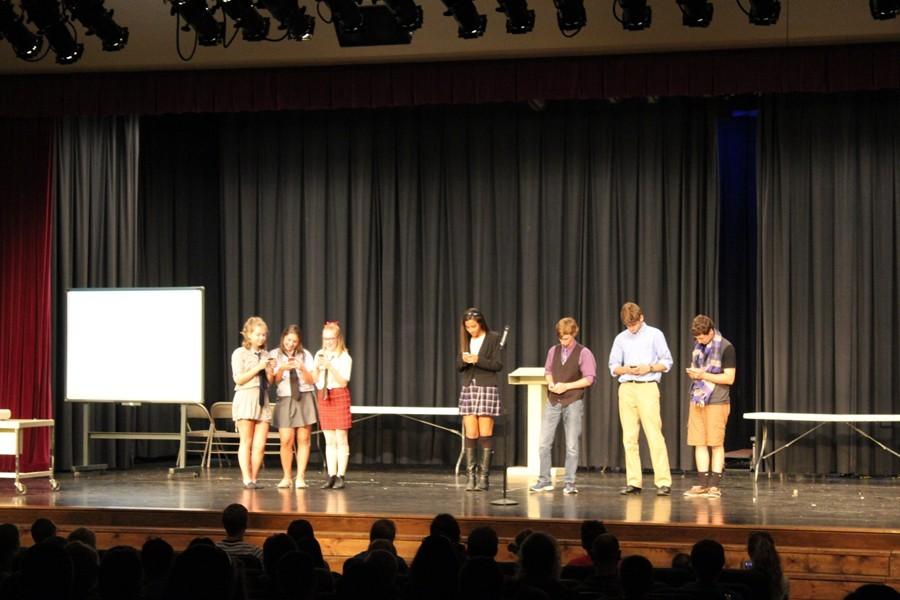 Annual Skit Night pleases the crowd
Last Wednesday evening the Homecoming Court and their groups performed at Bellwood-Antis' annual skit night.
The fun filled event started off by an introduction by Leo Club adviser, Mrs. Bartlett.  She introduced the emcees of the evening, president of Leo Club, Mariah Younker and secretary, Makala Doyle.
The girls introduced the Homecoming Court and the first skit of the night.
Paige Dinges and her posse performed a rendition of Family Feud.  Kala Wooten and her cuties acted as the characters of the show Gossip Girl.  Rozalyn Yancey and her renegades performed a skit of Super Mario Brothers.  Maria McFarland and her mob acted as characters of the movie The Godfather.  Marissa Panasiti and her traps improvised a scene at the gym involving gym stereotypes.  The final skit of the evening was Jules Lusk and her ladies and lads performing scenes from the movie Star Wars.
The next event of the night featured a few games involving the nominees and their escorts.  The first game was the traditional Makeup game.  The girls were all blindfolded and given basic makeup essentials such as blush, sparkly eye shadow, and bright lipstick.  The winner was based on the crowd applause and Nicholas Perry and Rozalyn Yancey were the first winners of the night.
The next game everyone worked together to untangle the human knot.  The court had to grab hands with two other members and had to untangle themselves without letting go of each other's hands.  The game was hilarious to watch.
The third game of the night was a very popular game, the cookie challenge.  Each court member was given a cookie to place on the top of their foreheads.  The objective of the game was to get the cookie in their mouth without using their hands.  Rozalyn Yancey was the winner again.
The final game of the night was called balloon burst.  Each pair got three balloons to pop without using their hands or feet.  Many couples laid on the ground and used their stomachs to pop the balloon.  Rozalyn Yancey and Nicholas Perry, yet again, won this game, giving them top honors in all of the games of the night
The final event of the evening was a new addition for skit night, a lip sync.  All the girls on the Homecoming court lip synced to Beyoncé's "Single Ladies."  The guys all performed a lip sync to Marvin Gaye and Tammi Tarrell's "Ain't No Mountain."
The entire evening was filled with laughter and fun, and the Homecoming Court made memories they will never forget.
Be sure to come out to the game on Friday night at 7 p.m. to watch the Homecoming queen be crowned at halftime.