BA Hosts District Band
January 29, 2016
The pressure is on for 150 students who auditioned Wednesday for two hours to snag a place in their chairs and move on to PMEA Regional Band.
That's the pressure of District band, and this year Bellwood- Antis is hosting PMEA District 6 Band Festival.
The festival runs through Friday, with the concert beginning at 7 p.m. at the Richard Bower Auditorium.
B-A will be represented by Kyra Woomer (French horn), Kaitlyn Farber (flute), Sarah Knisely (oboe), Kaitlyn Hamer (alto sax), and Logan Morrison (tenor sax).
The students say that they all want to perform well and meet new people.
"I expect to perform well with other students and to perform as a team," said 11th grader Katie Hamer.
"I expect to learn something, whether it's learning about other people, meeting professors, or learning about the music," said Sarah Knisely.
There will be students from Blair, Bedford, Cambria, and Somerset counties auditioning for Region Band, many of whom  feel very passionate about band.
"It's really exciting because travelling to other schools make me feel like a part of the community," said Harley Stimer-Heyward from Tyrone. "It's really hard work, lots of practice, but it's what got me here."
"I've been playing trombone for six years and it's truly exciting to be getting out of school and meeting people," said James Berry from Northern Bedford.
Dr. Carter Biggers, Director of the Penn State Blue Band, is the guest conductor on Friday.
Bellwood-Antis Band Director Mr. Patrick Sachse, the host director, said, "The ensembles will perform five songs together, and  other students will be performing solos. Students from Bellwood-Antis will play the National Anthem."
Blue Band Director to lead PMEA District Band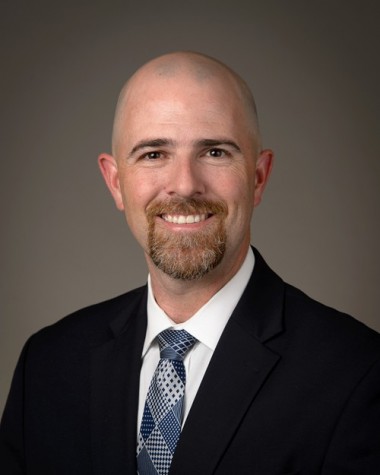 The best band members from all over District 6 will be at Bellwood-Antis High School today and tomorrow for PMEA District 6 Band Festival.

Dr. Carter Biggers, who will be the director for the festival, has a music filled history and should do a great job for the students.

"It's an honor for us to have Dr. Biggers as our director, considering the experience he brings working with student musicians at all levels," said Mr. Patrick Sachse, the B-A band director who is hosting this year's concert.

After growing up in Texas, Biggers decided that he would attend Texas Tech University. While there he was principal percussionist in the Symphonic Wind Ensemble, and also served as percussion section leader for the "Goin' Band from Raiderland."

Biggers graduated from Texas Tech with a master's degree in band conducting.

After graduating, Biggers decided to stay in his hometown and teach high school and junior high school band for seven years. After leaving Texas he decided to go to the University of Iowa and earn his doctorate in band, conducting and completing his doctoral thesis: "On Iowa!" A History of The University of Iowa Marching Band, 1881-2012".

In the fall of 2013, Biggers decided to join the music faculty of Penn State. At Penn State he serves as assistant director of Athletic Bands, and is also involved in all musical and administrative aspects of the athletic band program. This includes the direction of the famous Penn State Blue Band, along with volleyball, hockey, and basketball bands. Biggers also teaches undergraduate conducting and guest conducts music major and non-major instrumental ensembles.

"

I am extremely excited to be working with the students of District 6 over the next two days

— Dr. Carter Biggers

.

Now getting ready to direct the district band, Biggers explained how he got the position.

"I was contacted 18 months ago by Mr. Patrick Sachse, Bellwood-Antis band director and this year's host for the District 6 Band Festival. He told me that I was recommended to him by one of his mentors, Dr. O. Richard Bundy, Director of Athletic Bands Emeritus at Penn State University," said Biggers.  "I had the great fortune to work with Dr. Bundy during his last two years as director at Penn State and he is a legend in his own right. To have his recommendation is very flattering and humbling."

Biggers seems like he is looking forward to the opportunity to work with students from around the area.

"It is an honor and privilege to be invited and I cannot wait to get started," said Biggers.

Be sure to be at the Richard Bower Auditorium tomorrow at 7 p.m. to watch the district band under the direction of Dr. Carter Biggers.
Leave a Comment
Happy hosts
Band Director Mr. Patrick Sachse is a hard-working individual who helps his students achieve.  And with the PMEA District 6 Band Festival coming up, he is working around the clock to prepare his group for the competition.
"
But I'm not sweating it; we have all the big parts in place.
— Mr. Sachse
The concert will start at 7 p.m. tomorrow, and Mr. Sachse and Bellwood-Antis High School are playing host.
So along with working his students, Mr. Sachse has had to coordinate classrooms for auditions, reserve rooms at the new Days Inn in Pinecroft for around 100 students, and a lot of other behind-the-scenes work.
"I know there's a lot of work to be done," he said.  "But I'm not sweating it; we have all the big parts in place."
Although Mr. Sachse has conducted county competitions before, he hasn't run something of this magnitude.
"District band stretches over four counties(Blair, Bedford, Cambria, and Somerset)," Sachse said.  "Thirty-five schools and 150 students will be participating in it."
Musicians Kaitlyn Farber (Flute), Sarah Knisely (Oboe), Kaitlyn Hamer (Alto Sax), Logan Morrison (Tenor Sax), and Kyra Woomer (French Horn) will be representing Bellwood-Antis.
"We've been trying to help Mr. Sachse out as much as possible these past few weeks," Logan said.  "We've been mailing out music to all the schools, organizing the awards for the competition, and a bunch of other small jobs."
Logan says it's an honor to compete once again in District Band.
"I just really hope I can improve my performance from last year," he grinned.  "That would be a success for me."
Thursday is the big rehearsal day for all of the students, and it will last almost 12 hours, according to Mr. Sachse.
Band members will have the opportunity to work under the guidance of Carter Biggers, director of the Penn State University Blue Band.
"Hopefully we can catch our second wind on Friday and put on a great show; I'd like it if we could put two of our five students into Regionals," Sachse added.
Leave a Comment