Blue Band Director to lead PMEA District Band
Dr. Carl Biggers brings experience on the high school and college level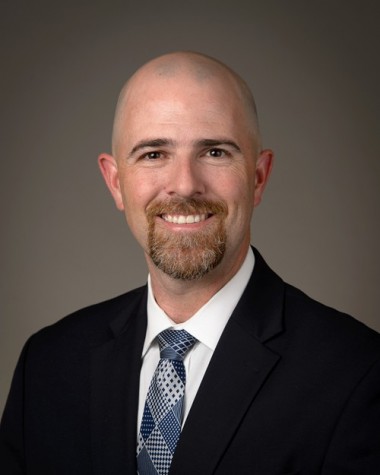 The best band members from all over District 6 will be at Bellwood-Antis High School today and tomorrow for PMEA District 6 Band Festival.

Dr. Carter Biggers, who will be the director for the festival, has a music filled history and should do a great job for the students.

"It's an honor for us to have Dr. Biggers as our director, considering the experience he brings working with student musicians at all levels," said Mr. Patrick Sachse, the B-A band director who is hosting this year's concert.

After growing up in Texas, Biggers decided that he would attend Texas Tech University. While there he was principal percussionist in the Symphonic Wind Ensemble, and also served as percussion section leader for the "Goin' Band from Raiderland."

Biggers graduated from Texas Tech with a master's degree in band conducting.

After graduating, Biggers decided to stay in his hometown and teach high school and junior high school band for seven years. After leaving Texas he decided to go to the University of Iowa and earn his doctorate in band, conducting and completing his doctoral thesis: "On Iowa!" A History of The University of Iowa Marching Band, 1881-2012".

In the fall of 2013, Biggers decided to join the music faculty of Penn State. At Penn State he serves as assistant director of Athletic Bands, and is also involved in all musical and administrative aspects of the athletic band program. This includes the direction of the famous Penn State Blue Band, along with volleyball, hockey, and basketball bands. Biggers also teaches undergraduate conducting and guest conducts music major and non-major instrumental ensembles.

"

I am extremely excited to be working with the students of District 6 over the next two days"

— Dr. Carter Biggers

.

Now getting ready to direct the district band, Biggers explained how he got the position.

"I was contacted 18 months ago by Mr. Patrick Sachse, Bellwood-Antis band director and this year's host for the District 6 Band Festival. He told me that I was recommended to him by one of his mentors, Dr. O. Richard Bundy, Director of Athletic Bands Emeritus at Penn State University," said Biggers.  "I had the great fortune to work with Dr. Bundy during his last two years as director at Penn State and he is a legend in his own right. To have his recommendation is very flattering and humbling."

Biggers seems like he is looking forward to the opportunity to work with students from around the area.

"It is an honor and privilege to be invited and I cannot wait to get started," said Biggers.

Be sure to be at the Richard Bower Auditorium tomorrow at 7 p.m. to watch the district band under the direction of Dr. Carter Biggers.
Leave a Comment