Circus Rejects: Killer Clowns
Smokey Robinson was a famous musicians in the 1960's who once sang his hit song "The Tears of a Clown."
This title very well may come true if some of these clowns we hear about today trot onto some local residents' front lawns.
Many people around the country have spoken out on social media about seeing people dressed as clowns committing serious crimes.  Accounts of robbery, trespassing, and luring people into the woods have been reported. Over the past weekend some claim to have seen these circus rejects locally.
The clown cult has been supposedly spotted in the Tipton area.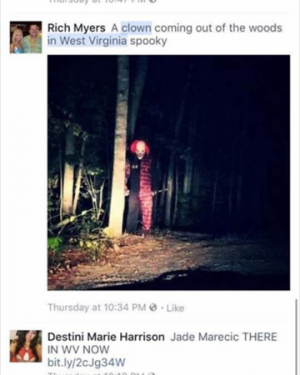 After the blow up on social media, students and locals have claimed to have seen these clowns in action. I guess they forgot that Halloween isn't until October. If most people Central Pennsylvania see a creepy clown walking up on their property, it probably isn't going to be a good day for Mr. Bubbles and his act.
A lot of people are buying into the clown saga as the same picture of a red haired clown behind a tree can be seen fifteen times while scrolling down your Facebook feed. Even though most pictures are time stamped roughly a week ago and in a different state, you could definitely believe these goons were lurking around Bellwood, PA!
Sophomore Mikala McCracken is afraid of clowns and wouldn't mess around with pranksters.
"I am very afraid of clowns, and if one jumped out in front of my car at night I wouldn't hesitate to run them over," said Mikala.
"
If you don't have anything better to do with your life than run around at night as a clown, you got problems.
— Nate Friedenberger
Some students are setting up plans to go "clown hunting" and really give these jokesters a taste of their own medicine.
Senior Sawyer Kline is not playing any games with a killer clown. He plans to gather a convoy and change that rules of the game, turning clowns into the scare victims.
Another senior at Bellwood-Antis, Nate Friedenberger, isn't afraid to rumble with any clown who runs up on him.
"These clowns don't scare me. If you don't have anything better to do with your life than run around at night as a clown, you got problems," said Nate.
If you are truly worried about encountering a killer clown, instead of worrying and having a panic attack, you can more than likely just call the authorities.
Eventually all these shenanigans will come to an end.  Let's just hope there aren't too many car dents or twelve gauge shot gun shells laying around when it's all said and done.
Be safe out there, you never know what's going to pop out at you on your way home these days. Just don't hesitate to grit your teeth and punch the gas!
Leave a Comment