BMOC: Jake Miller lives the hockey life
Hockey is not an official sport at Bellwood-Antis, but that is not going to stop Junior Jake Miller from pursuing the game he has been playing practically his whole life.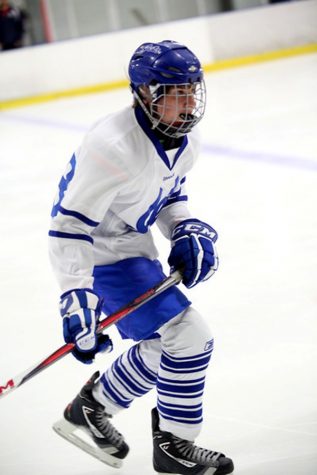 "I don't know how much you could say I chose hockey, since my dad had me playing with a hockey stick since I was 3 but it's a sport I definitely enjoy playing," Jake said.  "I got my start going to learn to skate sessions when I was about 5.  Once I completed those, I had 2 years of in-house league, which was made up of kids like me just learning to play hockey.  After that I graduated to travel hockey where we'd go out to Pittsburgh every weekend to play other 7 and 8 year olds.  That probably sounds insane but it's honestly just the way the sport is.
Jake Currently plays for the Johnstown Jets U16 A team and the Bishop Guilfoyle Marauders high school co-op team, which plays its home games at Galactic Ice in Altoona. He is this month's Big Man on Campus.
Hockey is not easy an easy sport, especially when you have to play for a school that you do not attend, but after a while, Jake said, it becomes normal.
"I run track and cross country for Bellwood and despite practices being every day, it's never a problem to get rides.  But even going to Altoona, much less Ebensburg or Johnstown, can be a problem, but again, not one I think about often," said Jake.  "I've been playing travel since I was seven years old, and its been something that has become part of my life, and with that I wouldn't think about the difficulties of playing in Altoona or Ebensburg like someone else who hasn't done it their whole life.  So for the difficulties playing somewhere else, travel is definitely number one."
Jake is having a solid season playing on the blue line for the 6-7 Marauders, who defeated State College 5-3 on Monday. He has two goals, and four assists through 13 games.
"Jake is a great kid that fits well into the BG hockey family, BG hockey offers opportunities to kids like Jake to play ice hockey scholastically.  One of our goals is to provide a place for schools to build interest in their own ice hockey program. I would like to encourage Jake's school mates to come and see Jake and his teammates play. Kids who are interested in trying hockey are encouraged to come out." said Jake's coach Gary Landon.
Despite the success, Jake faces some obstacles as a member of a co-op team.  There are sacrifices, but some things can be adaptable.
"
I've never really had anyone aside from my parents, and Mr. Goodman come to my games, so if BDN would want to come, that'd be great!
— Jake Miller
"It would be like playing soccer or tennis for Tyrone.  It doesn't bother me at all to have a BG logo on the jersey rather than a Bellwood one.  In fact, I've played for BG since fourth or fifth grade, longer than I've played for Bellwood in any sport," Jake said. "The travel is the ultimate sacrifice that you have playing for a different school.  Unlike any Bellwood sport, we have to drive ourselves, there isn't a team bus or anything. So you have to be willing to drive far to play," said Jake.
If there's anything Jake might like more of, it's support and interest from the school community, although he realizes that's difficult for a team playing its home games 8 miles from B-A.
"I've never really had anyone aside from my parents, and Mr. Goodman come to my games, so if BDN would want to come, that'd be great!"  said Jake.