Lady Devils Stomp Comets
The Lady Blue Devils had something to prove Wednesday night as they looked to bounce back from their four-point loss in Saturdays ICC Championship against Everett.
A big win in the first round of the District 6-AA playoffs is what the ladies wanted, and sure enough that's what they got, beating Penns Manor 74-41 at the Bellwood-Antis High School gymnasium.
B-A will face off against Bishop Guilfoyle Monday night in the District 6-AA semifinals. The win solidified a spot in the PIAA 2-A tournament since four teams from District 6 2-A advance.
B-A Senior and Saint Francis commit Karson Swogger was pleased with the big win.
"We have to realize we have a big target on our backs. Last night we came out focused with a lot of energy and did a good job executing our game plan," said Swogger.
"
It was a good feeling to have a big win like that after our tough loss on Saturday."
— Sophie Damiano
B-A came out hounding the comets with intense full court pressure to force turnovers, which helped get a quick and comfortable lead.
It was no surprise that the Swogger-Alli Campbell back court duo combined for 45 of the teams 73 points.
Campbell led all scorers with 25 points, but also added 12 rebounds to earn herself a double-double.
"It felt great to get a good team win last night," said Campbell. "We're all looking forward to playing Bishop Guilfoyle Monday."
Swogger chipped in 20 points and freshman Emilie Leidig stepped up netting 11 points for the Lady Devils.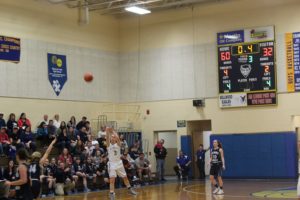 By halftime B-A had already pushed its lead to 20 points and crushed the hope of Penns Manor.
Senior Sophie Damiano chipped in five points offensively along with some big stops on the defensive end.
"We came out intense, and that led to a 15-2 start. It was a good feeling to have a big win like that after our tough loss on Saturday," said Damiano.
The start of the third quarter was nothing different. B-A was very consistent, shooting the basketball well all night.
Everything was clicking for the girls defensively just as much offensively, getting steal after steal. Just before the start of the fourth B-A bumped its lead up to 30 points and finished the game very strong.