Devils spear Bulldogs early
There was no question yesterday that the Blue Devil baseball was ready to play when it stepped on the diamond at Claysburg-Kimmel High School.
B-A jumped out to a big 9-1 lead in the first inning and ultimately ended the game early due to a 11-1 lead.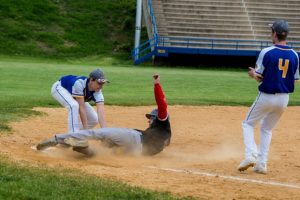 "We were able to jump on them early  We took advantage of their pitchers walking people and had some key hits," said head coach Steve Conlon.
The Blue Devils have improved to 13-4 after an uneasy start earlier this season.
B-A was propelled offensively by Sawyer Kline, Travis Luensmann, and Brendan Kowalski, who each drove in two runs apiece.
Kline improved his team-leading batting average to .450.
The lopsided victory can be heavily reflected on starting pitcher Nevin Wood, who only allowed three hits all game. The ace pitcher recorded another win on the mound in complete-game fashion, showing promise for B-A heading into the post season.
Conlon is pleased with the team and its recent performances.
"Overall, I feel we finally started playing like the team we knew we had to start the season," said Conlon.