Sports round-up: Volleyball stays undefeated
On Thursday the Lady Devils played Glendale for a win in  5 sets, taking the last and decisive set 15-6.
Junior Jess Heaton said, "It was a difficult game but we ended up coming out with the W."
Kamryn Mercer and Sakira Haralson combined for 26 kills for B-A, and their effort was aided by sophomore Sydney Lechner, who posted 31 assists. Bella Kies added 13 service points.
The junior varsity squad won in straight sets, 2-0.
Kaelynn Behrens, "It was  well fought game. In the end we wanted it more then them."
Soccer teams splits a pair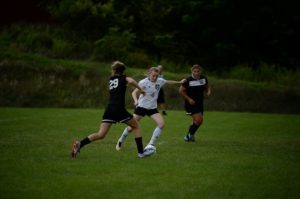 The soccer team split two games last week, with the girls falling to Central 4-1 on Thursday and the boys topping the Dragons 5-4 in overtime on Saturday.
Riley D'Angelo had a goal in the girls game. Tyrone/B-A fell to 1-1.
On the boy's side, Tyrone/B-A led 3-1 at the end of the first half before Central scored three unanswered goals in the second half to tie it.
Johnston, who had three goals on the day, tied the game at the 24:06 mark before kicking the game-winner at 5:36 of overtime.