Making sense of the Blue Devil season
The Bellwood-Antis football team of 2017 was the eleventh team in program history to complete the undefeated regular season. It was the first to take down school rival Tyrone in the Backyard Brawl in five years.
But the Blue Devils had the season cut short in the first round of playoffs.
Their only loss of the season came in the last game against Westmont Hilltop in a nail biting 29-28 finish at Memorial Stadium in the first round of the 2A playoffs. Even though the end of the season left a bitter taste in the mouth of the Blue Devil football players, the regular season was still a success.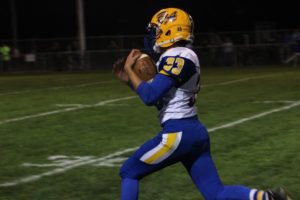 Putting together those opposing feelings of accomplishment and disappointment hasn't been easy, but Assistant Coach Nick Lovrich said it's starting to happen.
"I think that right after the play-off loss to Westmont it really stung coming up empty in the district play-offs after such a successful regular season," said Coach Lovrich.  "We were all pretty upset with the outcome of that game.  As time has passed since that last game, you start to reflect a little bit more on the journey we had to that last game and how many good things happened during the year."
One of the major accomplishments Coach Lovrich pointed to was the success of the program at all levels.
"We were undefeated throughout the whole program, which we think may have never happened before," he said. "Unless you win a state championship, your season is going to end with a loss and that negative feeling.   Our seniors are leaving the program with the good memories of their senior year."
Many of this year's players still had pretty big seasons.
Senior Thor Schmittle carried the ball 158 times for 1,095-yards (6.9-yards a carry) and 15 touchdowns. Thor amassed these yards while only fumbling once all season in 11 games, while leading the defense with 70 tackles. Sophomore Troy Walker was only one tackle behind Schmittle with 69 total tackles.
Senior Ian McFarland had the highest average yards per carry, 1 attempt for 81-yards and a touchdown, along with 4 interceptions which led the defense. Ian was also the team leader for receptions, yards, and receiving touchdowns; 28 catches for 572-yards and 6 touchdowns.
Senior Shawn Wolfe completed 59 passes for 1,072-yards and 11 passing touchdowns. Shawn also rushed 78 times for 434-yards and 6 touchdowns.
Senior Noah Aiken led the defense in sacks with 4 for 40-yards of loss.
This year's team was especially close, every person on the team treated each other like their own brother. Two in particular are Seniors Jack Showalter and Chris Wertman, they are the only two who have been on the varsity squad all four years of high school.
Chris Wertman said, "It has been a great experience playing football with this group of guys. Jack and I have been here for four years battling in the trenches with each other and I will remember this for the rest of my life."
Now that this historic season is over the talk will begin "Will Hayes retire?" "What will they do without this year's seniors?" "Was this a successful season?"
"
As time has passed since that last game, you start to reflect a little bit more on the journey we had to that last game and how many good things happened during the year.
— Coach Lovrich
Senior Jack Showalter had some answers. "I think it was a very successful season, and we proved a lot of people wrong, and got better every day at practice.
Jack also had some thoughts about losing a strong senior class.
"I feel like a lot of people on the line are going to have to step up to fill the senior's shoes. There will be new running backs that are going to work hard and do what our senior running backs were able to do this year," he said.
Coach Lovrich had a message for returning players, as well.
"To the players coming back, hopefully they are motivated to work hard in the offseason to make that play-off run longer next season," he said. "Our players at all levels should be very proud of their accomplishments this year.  As a program we had a great year and hopefully the mindset for success in our future."
The Blue Devils will still be returning Wolfe and defensive lineman Walker, among other lettermen.
Though the season had a bitter ending to a sweet regular season, everyone in the program clearly views this season as a good one.