Angela Wheeler Earns Title of 2014 Valedictorian
Miranda Lowery Will Be Salutatorian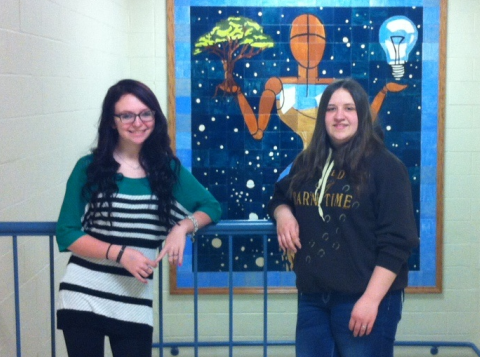 Angela Wheeler was announced valedictorian and Miranda Lowrey was announced salutatorian for the class of 2014.
The valedictorian and salutatorian awards are given to the top two students in the graduating class as determained by the cumulative weighted GPA after the 3rd marking period of the senior year.
"These two young ladies have worked hard consistently for four years and should be proud of the accomplishment," said Principal Mrs. Hartsock.
Both Wheeler and Lowery will address the senior class at Commencement in June.
The honor is special for Angela and her family because her sister, Beth, was valedictorian in 2009. But Angela said she never felt pressure to duplicate her sister's accomplishment.
"I hit a point where I just wanted to work as hard as I could and it didn't matter that she was valedictorian," said Angela.
Miranda said she feels "all the hard work through high school has paid off." She also said, "Angela and I both had the same goal. I always said she deserved to be where she was, and I would happily be behind her."
Leave a Comment