Middle school students work on perfecting solar energy
Mr. Martin, an eighth grade cultures and science teacher, is putting solar panels in the outdoor classroom, but it's a project that was originated by middle school students.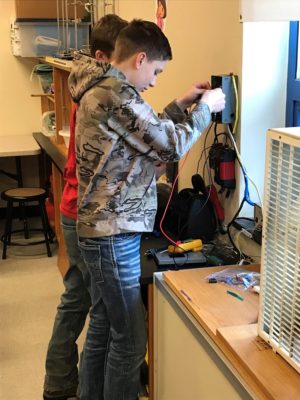 "A student, Skylar Patton, approached me in early December with interest in getting the solar panels running again, as it has been dormant for a significant amount of time," Mr. Martin said.
Skylar has taken the lead on the project, and other students found interest and became involved, notably Kruz Snyder and Jacob Fitzgerald. These students had previous electrical knowledge, according to Mr. Martin.
"Kruz and I did same things, ran wire and figured out how to hook things up,"   Skylar Said.
The project's goals are to improve the efficiency of the solar panel's power output via sun tracking. There's also the added bonus of becoming more environmentally conscious.
"We need to learn how to stop using fossil fuels," Kruz said.
The solar panels will provide a sustainable, renewable, and passive energy source for the outside classroom and secondary energy source for Middle school classrooms.
Mr. Martin started the project in December and it's set to be completed April.
The engagement was never a variable for these student because they initiated their own interest in the study.
"I think they learned how to systematically proceed through an investigation, making improvement claims based on test data," he said.
Learning through the scientific research process has become Mr. Martin's primary focus as a teacher.
"This project aligned with this philosophy, as well as NGSS and State Standards for 8th grade Science," Mr. Martin said.
The project objectives are to install new wires, install a new deep cycle battery, collect data for power output, analyze data to improve electrical output, and to install motor with timer for the solar panel sun tracking.
"We worked on it for a month or two. We buried wires and tried to hook up motor," Jacob Said.
Mr. Martin said maybe these solar panels can provide air conditioning for classrooms, which would be powered by solar and other alternative energy source.
"We hope to power classrooms with AC, lighting, and maybe a fridge," Kruz Said.