Ride Free and Have Fun!
July 4th Freedom Ride Joins Bellwood and Tyrone in Patriotic Support
Something that started as a fun little ride has turned into a huge event to raise money for Veterans in the Tyrone and Bellwood area.
Freedom Ride, organized by a group of twenty-somethings from Bellwood and Tyrone, will take place this year on the Fourth of July for the fourth consecutive year.  Registration begins at 9 a.m. and the ride starts at 10.
To celebrate freedom, people of the communities come together to ride bicycles and proudly show their support for the great country that was given to them by Veterans. Originally it was a group of young people who wanted to put together a bike ride to benefit a local VA hospital but it has turned into a huge community event.
You can still register to ride free at the group's website, www.freedomrideusa.com.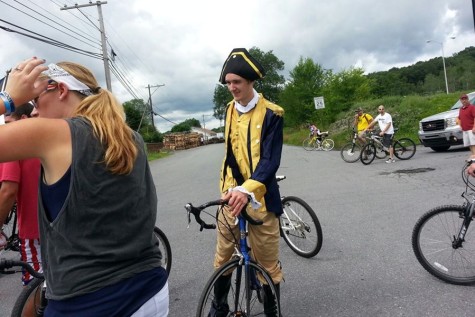 Bellwood-Antis grads Pat Thornton, Phil Hess and Sean Riggle were among the event's founding fathers, along with Tyrone alumni Doug Roseberry, Eric Sloss and Eric Latchford, and Altoona graduate Lindsey Brubaker.
This year, the event's organizers are hoping to see more involvement from high school age riders.
"We've raised over $11,000 in three years! That's huge to us! We all feel that we are doing our part to represent our country in a positive way," said Roseberry. "Too many people go about their lives not recognizing all the men and women who have fought for our freedom!"
This ride takes place on the Fourth of July starting at the American Legion in Tyrone, but it's not only a bike ride. It's a full event with prizes, fun, and food. It's something people can come to just to hang out and see the spectacle of the USA gear and bikes. Each year there are awards given to riders with the best bike decorations, the oldest and youngest riders, and the family with the most riders.
"
Too many people go about their lives not recognizing all the men and women who have fought for our freedom!"
— Freedom Ride Organizer Doug Roseberry
There was also a Freedom Ride gala ball in early June to kick the summer festivities off early.
According to Roseberry, the ride started in 2011 with 33 riders, who rode free to show appreciation for Veterans, but after the first year and seeing how many people were interested Roseberry and his fellow organizers thought, "Why not raise money in the process?" The ride went from 33 riders to over 100 riders within a span of one year.
Last year, the ride raised $7,000, and all of the proceeds go directly to the James E. Van Zandt Medical Center in Altoona, commonly known as the Veterans hospital.
Even though the ride is held in Tyrone, many people from the Bellwood-Antis community participate. Some of these people include the Worthing family, which last year took home the award for most family members participating in the ride.
Seth and Cameron Worthing, twin brothers who graduated from B-A in 2013, participate every year. Cameron said, "People should give Freedom Ride a try because it supports the troops and it's an overall fun time. You'll see people dressed up and it's good exercise. It really benefits the Veterans, like our brother and sister."
Tanner Worthing, who is going into ninth grade at B-A and is the youngest of the family, said, "It's huge and lets us raise money for Veterans. Imagine not seeing someone in your family for years (because they are stationed overseas). Let's help them!"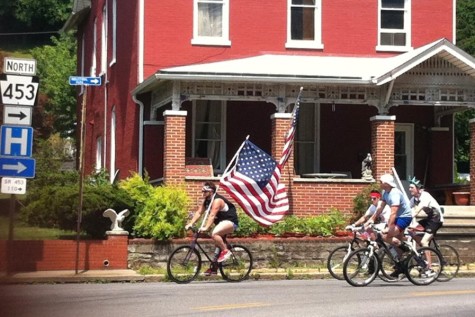 Roseberry feels what is most fun about Freedom Ride is the friendships formed around the community. "Whether Tyrone or Bellwood… Altoona or California, being a Freedom Rider has become a sense of pride. Anyone who participates in this ride deserves a certain level of respect," he said.   "They are choosing to give back, pay a tribute to the Vets, and choosing to give up the morning of their holiday to do something great for the community."
Doug and his organizers are hoping to get younger people involved. There is a $20 registration fee and registration is still open.  All riders receive a t-shirt with their registration.
In the words of Roseberry, "We're just a group of Americans riding on two wheels, baring our country's three colors, with one goal in mind… to ride free!"
Leave a Comment