B-A business students head to Saint Francis
A group of B-A sophomores and juniors got down to business last week, taking a trip to Saint Francis University to learn how to gain a better understanding of the business world and make real world connections with SFU.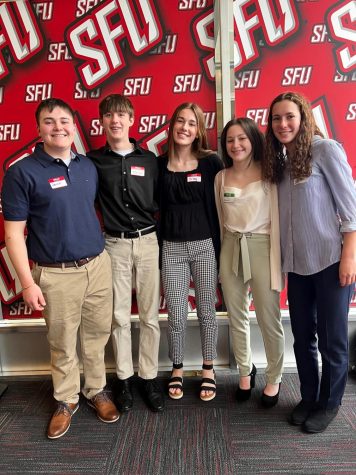 There were over 11 schools with roughly 200 business interested students that traveled to the university, where they participated in a fun and competitive environment learning about majors they could pursue within business.  Students had the opportunity to practice real world business scenarios and understand how far their interest in business can take them in life.
Sophomore Jacob Caracciolo, learned just how effective and useful a business degree is.
"It was very interesting to learn about how many fields a business degree can extend into," said Jacob.
Some business events the students participated in were marketing in a minute, business ethics, international trade, and finance competitions, where they competed against other schools in a business bowl competition.
Sophomore Hannah Waite would recommend attending this trip to anyone interested, "it was a great opportunity to learn more about business."
Individual sessions with the students included trivia challenges and even interview challenges, where students learned the necessary skills to ace an interview. As well as learning how to ace getting the job, they learned how to budget and learn how to stay on top of expenses and unexpected events.
"
Each student seemed to walk away with a better understanding of business.
— Miss. Stephanie Onkst
Participating schools came from several different counties and included:
Bellefonte
Bishop Carroll
Bishop Guilfoyle
Central
Forest Hills
Mount Union
Penn Manor
Portage
Shade
Shanksville – Stoneycreek
Miss. Stephanie Onkst, B-A guidance counselor, said B-A students had attended the event before, but there are been a 4-year hiatus.
She said she would absolutely bring students to this event again.
"Each student seemed to walk away with a better understanding of the world of business and if a business – related field would help them with their individual post-secondary goals."
Leave a Comment