B-A musical scores big nominations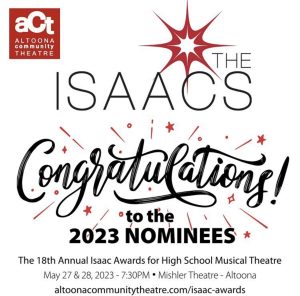 Grease is the word! Recently, Bellwood's spring musical, "Grease" got nominated for 5 Isaac Awards.
The nominations included:
"Best Performance" for the entire Grease production
"Best Ensemble" for the "Pink Ladies", played by Annie Legrand, Jocelyn McGuire, Trinity Riva, and Avery Turek
"Best Dance" for the 'hand jive' dance number
"Best Male Lead" for Danny Zuko, played by Daman Mills
"Best Supporting Lead" for Jan, played by Trinity Riva
The Pink Ladies ensemble are grateful for their recognition.
"We are so excited to be nominated with our best friends," they said, "and that all of that hard work is being recognized."
The Isaac Awards are an award ceremony hosted by the Altoona Community Theater, where they recognize 20 Blair county school district's musicals, nominating them for awards. It is mirrored after similar award shows such as the Oscars, where the cast of Grease will perform their nominated dance number and then they will attend an award ceremony.
Daman Mills, nominated for best male lead, is honored to receive this nomination.
"I remember in 8th grade thinking it would be awesome to get nominated one day and I'm happy to see that hard work has paid off," says the nominated senior.
The awards will be held on May 27th and 28th at 7:30 PM at the Mishler Theater.
Good luck to the cast of Grease! And congratulations on the nominations!
View Comments (2)