This week in the Home Economics class, students made their first dish. They prepared gourmet, cinnamon sugar roasted tortilla chips with some exquisite fruit salsa to complement it.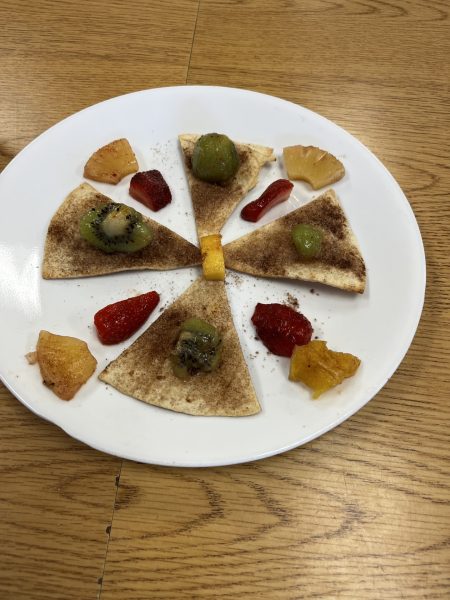 This was like nothing I've ever tasted before. Just thinking about the flavors makes my mouth water like the Nile River. Not only did it taste delicious, but it looked beautiful too. I believe presentation is key in the kitchen.
Senior Jake Mercer describes this grub as, "Better than I ever anticipated. I believe there are still some factors we could capitalize on better. I give it a solid 7.8/10."
To make this mouthwatering snack on your own, first you must take a bowl and mix a fair amount of sugar as well as cinnamon powder. Then take a regular tortilla and cut it almost like a pizza into little cute squares. Spray those squares with vegetable oil, that way the cinnamon sugar will stick. Now, you can sprinkle that cinnamon sugar you made over the tortilla chips and really coat it. Throw those beautiful things in the oven for 6-8 minutes to ensure a nice, crispy, sugary coating. In the meantime, while those are baking, take any fruit imaginable and cut up to throw in a big bowl. Some of the best fruits used in our recipe were strawberries, kiwi, oranges, mango, pineapple, and apples. Once those are all sliced up in a bowl, sprinkle some love and cinnamon sugar over them. By this time, your golden, cinnamon sugar tortilla chips should be done. Pull those babies out, put some of your fresh fruit on top, and enjoy!