Get 'em while they're hot
Girls are buying prom dresses earlier and earlier each year
As prom season inches closer and closer, girls are preparing.
The most important detail of prom of all: the dress, the center of attention when it comes to this special day.
Even though several months remain before prom, girls seem to be buying their dresses earlier and earlier each year. Why?
There are two reasons every female knows: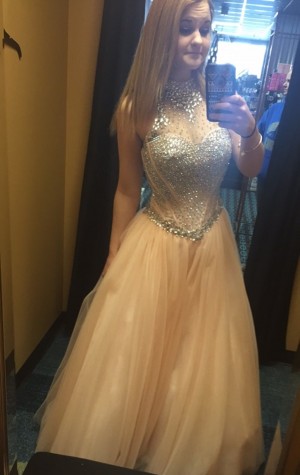 1. You want "first dibs" on a dress before any other girl has a chance of even looking at it.
"All the good ones will be gone if we wait," said senior Rachel Harris.
"Well, I got my dress because everyone else was going out to get there's. I wanted to get what was good so I wouldn't be stuck with leftovers," said junior Mariah Younker. "To me, any time after Christmas is a good time for finding a dress."
2. Dresses are cheaper when they are first released in store.
There's even more beyond that, and you can check them out here.
"
I wanted to get what was good so I wouldn't be stuck with leftovers."
— Junior Mariah Younker
It doesn't matter if you are planning on buying your dress online or in a boutique, thousands of girls will be piling up to find the perfect dress. If you don't want your favorite store running out of your preferred prom gown, then you need to start early. Your dream prom gown might be out of stock within seconds.
Senior Jaqueline Finn, a catcher on the softball team, noted that once the season begins she has no time to find a dress.
"I go to Diamond Bridal in Hollidaysburg where they keep track of what dress you get and put your school's name on the tag so no girl going to the same prom can get it," said Finn. "I wanted to make sure that I had the first choice."
A benefit of buying your dress early is ensuring that your dress's color will match your date's tuxedo/attire.
Hair and makeup styles are determined for girls after they have purchased their dress. They want to choose the best look to go along with their gown.
Excitement also plays an important role in searching for a prom dress. Prom can give anxiety to some prom-goers, and you can eliminate some of that stress by buying your dress early and focusing on accessories to compliment the dress.
Junior Edyn Convery feels it's a matter of keeping up with the Jones's.
"I think it's a bandwagon. Once someone gets their dress everyone else does, too,"  she said.
Once you have your dress picked out, you then have more time to worry about your date, accessories, and transportation, which the BluePrint will address in future stories as prom approaches.