How are you spending Valentine's Day?
How will you be celebrating this Valentine's Day?  Will it be with your significant other or a whole bunch of food?
Many people celebrate Valentine's Day in different ways. For example, Mr. Naylor said that "I don't really celebrate Valentine's Day. I just see it as just a made up holiday promoted to get people to spend money on cards and candy."
So we went around Bellwood to see what other students and staff members are doing for Valentine's Day.
Two of our Blueprint staff members said that they would be sitting at home with their pets, who love them unconditionally.
Devin Poplin, a Big Buddy at Myers Elementary, has made little gift bags full of goodies for her elementary students. They'll be getting Hugs, Hershey kisses, and lollipops. Kind of makes you want to go back to elementary school, doesn't it?
One of the funniest responses, of course, came from BluePrint photographer Emily Wagner.  When asked who she will be spending Valentine's Day with, she
shouted, "There's no one but Netflix for me!"
Another person that will be spending Valentine's Day with their loving animals will be Alexis Mayhue, who will be hanging out with her one cat, two guinea pigs, and two birds.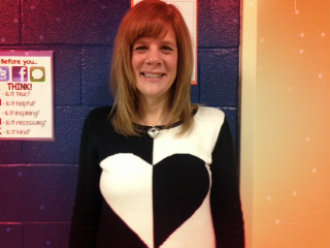 Did you know that Dairy Queen makes special cakes just for Valentine's Day?  Well now you do! So grab your date and red velvet spoon and enjoy some of "Cupids Cake".  One person that is taking advantage of this opportunity is Assistant Principal Mrs. Adams, who said,  "I saw the commercial for this cake on TV and after that I had to get it!"
Some kids unfortunately have to work on Valentine's Day. But that won't stop them from celebrating the day of love.  They plan on having their lunch break with their loved ones; doesn't that just melt your heart?
The history of Valentine's Day, and the story of the patron saint (Valentinus), are still a mystery to us even today. However, we do know that February has long been celebrated as the month of romance. If one month isn't good enough for you to celebrate Valentine's Day you're in luck!  There are actually many other days set aside in the year that celebrate love.
Leave a Comment