Read Across America Theme: design your own book t-shirt
Rachel Harris wins the second annual event
Thursday  is the third day of the Read Across America Week theme days promoted by the high school English department. To make the middle of the week more interesting students could flaunt their home-made t-shirts to the entire school.
It was the return of the Design Your Own Book  T-shirt Day. This day students are encouraged to create their own shirt that represents their favorite book.
The shirts could be decorated with key words, pictures, and quotes from or about the book.
English teachers voted for the best t-shirt in the contest. For extra incentive prizes were awarded in the form of Barnes & Noble gift cards: $25 for first, $15 for second, and $10 third place. Money for the gift cards was donated by the Bellwood-Antis School District Foundation.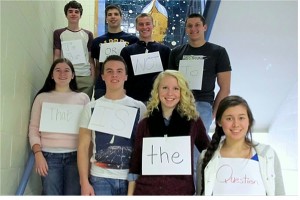 Last year's first place winner Emily Wagner was determined to top her shirt from 2014, which was a Fault in Our Stars shirt with the picture of the cover and some quotes from the book.  But she had to settle for second this year.  Rachel Harris won with her shirt featuring Junie B. Jones.
"I'm amazed by the effort put forth by the students who chose to participate in this theme day," said English department chair Mr. Naylor.  "The shirts clearly took a long time to design, and we appreciate the efforts to promote reading."