B-A's autistic support room is making an impact
Student body benefits from new program
The Bellwood-Antis School District has been making positive steps in the integration of autistic students into regular classroom settings.
However, it all wouldn't be possible without the help of Superintendent Dr. Thomas McInroy and the Bellwood-Antis staff.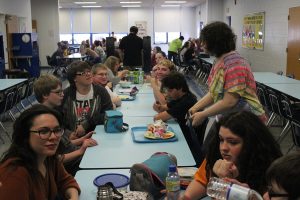 "The new program was actually developed out of need," said Bellwood-Antis Superintendent Dr. Thomas McInroy. "Several of our Middle and High School students attended Tyrone School District, but they were going to exceed the number of students allowed in each classroom. Therefore, we needed to move our students. We researched several different options and bringing the students back to Bellwood was the best option."
Autism spectrum disorder is a serious developmental disorder that impairs the ability to communicate and interact with others.
Mrs. Summer Carson, the lead teacher in B-A's autistic support classroom, stresses the importance of introducing her students to the rest of the school.
"It is essential to get our kids accustomed to the rest of the school. We try to get them as familiar with their community, surroundings, and peers as much as we possibly can," said Mrs. Carson.
People with autism, especially children, often follow the same routine every day. When change occurs in the timing of events or setting of a specific place, it may be very stressful and hard for them to comprehend what is going on.
"In a school setting, long breaks off and even weekends contribute to the loss of routine and makes it difficult to get them back into the swing of things," Mrs. Carson said. "I'm very structured with a tight schedule, so my students know when and where they need to be at all times."
"
It is a very positive and rewarding experience to see our students talking and interacting with the rest of the school.
— Mrs. Carson
At the beginning of the school-year, the Mrs. Carson's students sat in the cafeteria along with the freshman class, but they were by themselves at a separate table.
As the year progressed, Mrs. Carson had them progressively move closer to the other students. Currently, they are sitting right alongside a group of freshman.
"The other students just kind of welcomed ours over warm-heartedly. It is a very positive and rewarding experience to see our students talking and interacting with the rest of the school," added Mrs. Carson.
So one might ask, what the next step would be? Integration into a full classroom setting is what Mrs. Carson and the rest of her staff strive to achieve.
"A lot of our students are already in art and music classes. We want to surround them with everyone else and make them successful in the outside world after high school," said Mrs. Carson. "This is our main priority and goal, to help them lead a regular life."
Mrs. Carson has plans for making connections with the rest of the student body, as well.
"I would also love to see other students come in my classroom and implement activities. It would be another excellent way for my students to have the opportunity to interact with their general education peers," she said.
All-in-all, there's a lot that Bellwood-Antis students can do as individuals to help and support their fellow peers with autism or any other mental disability that one might have.
"It is important for our general population of students to better understand autism because we are all in the "game of life" together and we need to be understanding and supportive of our differences," added Dr. McInroy. "Having our students with autism in Bellwood is the best thing that could've happened for all students."