Hollen garners second MVP
Mountain League tabs Hollen the league's top tennis player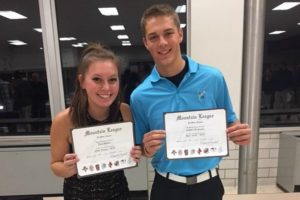 On Saturday, Bellwood-Antis junior Tina Hollen was named Mountain League Most Valuable Player in girl's tennis at the Mountain League sports banquet at Tyrone.
"It's nice to be recognized for the hard work. Nice that Mountain League has the banquet." said Tina.
Tina proved that she was the best on the court in the the league by going undefeated in the Mountain League matches this year. A health health issue sent her home early in the District-6 AA singles semifinal match in October, when she was diagnosed with dehydration during her match. Tina was playing as the second seed.
"
It's nice to be recognized for the hard work. "
— Tina Hollen
The Mountain League banquet honored the all-stars in the league throughout the fall sports. An ICC competitor when playing at B-A, Hollen competes on the Tyrone/Bellwood-Antis co-op tennins team because Bellwood-Antis doesn't have the numbers to support its own team.
Hollen said, "The banquet gives you the opportunity to come together with other athletes from around the Mountain League, and eat great food."
This was Hollen's second MVP award, after she earned her first last year, carrying on the Hollen legacy set by her sister, Ana. Ana, who now plays basketball at IUP, was also a two-time ML MVP in tennis.
"It's just a nice honor," she said.