Community youth encouraged to ride free
Freedom Ride offers chance to exercise and support our vets
Looking for a way to get involved in your community?  Wanting to show off your freedom while showing support and raising money for this country's great veterans?
Freedom Ride might just be the perfect place for you.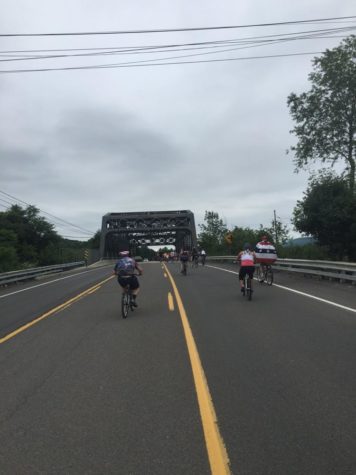 Freedom Ride is a simple joyride held annually on July 4, starting at the American Legion in Tyrone and ending at Rossi's corner store.
Anyone interested in joining can register online at the Freedom Ride USA website.
The ride started in 2012 as 32 friends  from both Tyrone and Bellwood-Antis riding as a hobby, but not raising money.    It has now grown to 350-plus riders and they have raised more than $68,000 dollars for local veterans.
The money goes directly to the James Van Zandt Veterans Hospital in Altoona.
"Freedom Ride is the perfect opportunity for young people to get out there and make a difference in their community!!  said Freedom Ride organizer Doug Roseberry, a 2001 Tyrone alumnus.
"We're here to have fun and show our appreciation for our freedom.  Our bicycle ride is the best way to start off your all American holiday.   Come out – dress up in your red, white and blue – come peddle 10 miles on a bicycle with a bunch of fun loving Freedom Riders – you'll catch Freedom Fever!  It's a great physical activity for anyone of any fitness level!  We're here for the fun and to thank our vets!!"
The Freedom Ride is a very important event for people of all ages, and Roseberry said it is vital that the young people get involved, and come together as one in the community to show their spirit.
Several B-A students attend the ride regularly, and they can attest to how much fun it is.
"It's not a race. You just go to ride," said freshman Jaydyn Shuke. "There are a couple hills on the course, but it's actually not too bad."
Classmate Evan Pellegrine, whose uncle Eric Sloss is a Freedom Ride board member, said he enjoys the displays of patriotism at the Freedom Ride.
"Just seeing all of the people dressed in costumes, and seeing how crazy people get makes it a lot of fun," Evan said. "I like to support our troops and veterans and it's a great way to be involved with your community."
Mr. Roseberry said having young people take part in the ride is of major importance to Freedom Ride.
"
I like to support our troops and veterans and it's a great way to be involved with your community."
— Evan Pellegrine
"Having our younger generation learn the importance of being active in their community is huge! The power of people! When you get a group together with a common goal/idea, the sky is the limit.  We simply ride bikes for ten miles and raise thousands of dollars," said Mr. Roseberry. "It's important for everyone to appreciate their freedom!  We want each and every one of you to come back every year!   Let this become your 4th of July tradition!   It helps promote love and respect within a community!   Doesn't matter what school you go to, what team you wear on your uniforms, we come together as one at Freedom Ride!!"
Mr. Roseberry said you can expect a passionate group of Americans ready to show their love and adoration for the veterans, with freedom riders dressed in all types of gear.  You can expect flags and fists in the air hollering USA!  As always, you can expect awesome clothing and special attire.
When the ride is over and riders return to the American Legion, there is always a before and after party/picnic with awards handed out for riders in categories like most patriotic costume.
You will not be let down at this year's freedom ride!  Everyone should be there!