FEATURE TEACHER: The running man, Mr. Sachse
Mr. Patrick Sachse is breaking the stereotype of the unfit band director.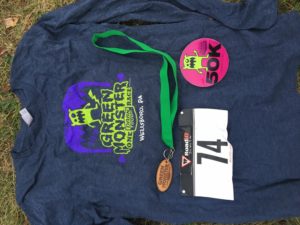 Besides leading the Bellwood-Antis band program, he does many activities outside of school.
He is a trail runner, which is a sport that consists of running and hiking over trails. He loves to backpack in the woods and he enjoys kayaking. He is also a competitive runner, with several big races under his belt.
"A couple of my friends started running races for fun, which made me want to start running," Mr. Sachse said
Shockingly, Mr. Sachse was not an athlete in high school. He did not play sports and was never involved in anything athletic-based.
And yet last week Mr. Sachse finished his first 50k race, which is 32 miles long.
In college he played in the Penn State Blue Band but did not participate even in intramural sports.
Since he began running in 2012, he has run in many races, including Pittsburgh Marathon, the Lost Turkey Trail run, the Green Monster 50K and Sweat for Vets.
He also works part time at Brush Mountain Running and Outdoors, a store that sells specialized running shoes.
When he's not running, Mr. Sachse, is a professional trombonist who plays at the Bedford United Methodist church as a paid musician. He has been teaching band for ten years now. However, before being a band teacher he was with the orchestra department at his other job.
He enjoys making music and likes working with others to give them help. He realized that he wanted to be a band teacher when he was in the ninth grade.
"I knew by ninth grade that I want to become a band teacher," said Mr. Sachse.  "I was lucky that a job opening opened up at Bellwood-Antis after I graduated," said Mr. Sachse.