Farber, Woomer lead B-A contingent at District band
Five others qualify for all-star ensemble
Seniors Kaitlyn Farber and Kyra Woomer will make their third appearance at PMEA District 6 Band, leading several B-A musicians heading to District.
Eight Student auditioned for district band and five were accepted. The auditions took place at Hollidaysburg Area High School on Sunday, November 19th, 2017.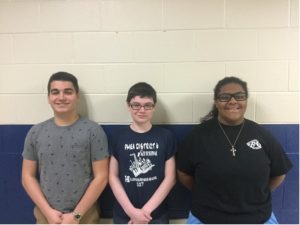 Kaitlyn said that even though she has been there before, it's still a big deal to show that your skills are good.
"I get nervous for anything. It does calm me able to know I can make it through and not panic," she said
Kyra said overall going to Districts makes her better prepared to play difficult pieces.
"It gives you a chance to put your own musicality into a piece," she said.
B-A's other District qualifiers were  Dominic Tornatore and Alex Foose on saxophone, and Alanna Vaglica.
The other students that auditioned for the district band this year are Shayla Graham, flute, Brendon McCaulley, clarinet, and Hannah Hornberger, bassoon.
District band forms a 150 piece honors ensemble with the best musicians from Blair, Bedford, Cambria, and Somerset countries. It will take place this year from January 10-12 at Northern Bedford High School.
B-A is also sending three students to District jazz band.
Shalee Bennett, Dominic Tornatore, and Alex foose all made the cut. This is Bellwood-Antis' second year participating, and Band Director Mr. Patrick Sachse noted that it was quite an accomplishment for all three students who auditioned to make the ensemble.