WANTING MOORE
B-A senior Jordan Moore survived a near-fatal crash in May, and he's returning to the football field tonight
Bellwood-Antis senior Jordan Moore probably shouldn't be alive, let alone walking, let alone playing in a high school football game.
Before ending his junior year, on the night of May 13, 2018, Jordan was in a near fatal car crash.
Hurrying home from his girlfriend's house, he hydroplaned and collided with a telephone pole on Old Sixth Avenue Road, causing him to shatter his pelvis, an injury that nearly cost him the ability to walk. Jordan also fractured his nose, chipped his teeth, and had his eyes damaged with shards of glass.
Paige Wenner, his girlfriend, was on the scene after it happened.
"
Right after he left my house I had a bad feeling.  The lights flickered and about two minutes later I heard sirens and I knew it was him.
— Paige Wenner
"Right after he left my house I had a bad feeling.  The lights flickered and about two minutes later I heard sirens and I knew it was him," Paige said.  "When I got to the scene it was unreal to me, and I was trying to believe that it wasn't him once I first saw his car."
Jordan had not been wearing his seatbelt, which actually ended up saving his life.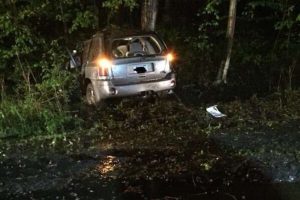 "I was in a hurry that night," he said. "If I were to have put my seatbelt on that night of leaving Paige's house I would not be alive right now.  Not wearing my seatbelt made me go flying into the passenger side of the vehicle, and if it weren't for that I would have been crushed (by the electric pole he collided with)."
Jordan was starting both ways for Bellwood-Antis's varsity football team in 2017, and he played a big role in helping the team go undefeated in the regular season.  Anyone who knew Jordan knew he had a love for the game of football.
He was an amazing athlete, but the odds of him playing sports again were slim following the events of May 13.
And yet tonight, after 3 months of rehab, he will make a miraculous return to the football field in a game against Mo Valley.
The story of Jordan's comeback begins with him fighting for his life in that drainage ditch on the back roads of Antis Township.
The family of B-A sophomore Abbey Snyder was the first on the scene as they found Jordan in the car, wondering if he was alive or dead.
"I didn't really know what happened or where I was at first. I was kind of just in shock.  One of the first things I did was wiggle my fingers and toes to make sure I wasn't paralyzed.  I was in an immense amount of pain feeling things I can't describe," said Jordan.
"When I got there I looked to see if he was still alive," said Jordan's father, Booker Moore, who is an EMT.  "Someone in that kind of accident should've been killed. There was a huge laceration on his forehead and it was just a scary feeling.  When I crawled into the back of the ambulance with him he  kept on saying that Dad is going to be so mad at me."
Once his ambulance reached Altoona, doctors knew his pelvic fracture was so severe that he needed to be taken to Pittsburgh by helicopter.
Jordan would remain at Pittsburgh Presbyterian for more than a week.
Meanwhile, when Bellwood-Antis football coach Nick Lovrich heard the news, football was the last thing on his mind.
"As a parent my heart broke for his parents when I heard about the accident," said Mr. Lovrich.  "You hate to see anyone go through anything bad, but as a parent you never want to see your child or a young person get hurt.  We spend our children's early years protecting them and as they grow they become more independent and have more responsibilities, like driving."
In Pittsburgh Jordan received surgery to repair a pelvic ring fracture, using an external fixator for his pelvis and two screws along his SI joint. In the days that followed his mind his mind returned to recovery.
"After finally getting the surgery done I was asking questions like when am I going to be able to walk again?  Or when am I going to be able to play football again?  They told me eight weeks for walking, but they said I would most likely not be able to play football," recalled Jordan.
"The doctors said only 3% of people are able to do what I did and recover the way I was recovering; most people with this kind of fracture are crippled for life, and I just count my blessings every day that I was able to bounce back from this," Jordan said.
His dad said that several doctors told him that he was not going to play again.
"When we were leaving the hospital the doctor asked Jordan if he was planning to be a professional football player.  When Jordan told him no then he suggested never to play again," said Booker.
When Jordan was told he was finally allowed to go home from the hospital he was beyond happy to be in the comfort of his own home. He was confined to a wheelchair for eight weeks after returning home.
"
most people with this kind of fracture are crippled for life, and I just count my blessings every day that I was able to bounce back from this.
— Jordan Moore
Jordan was finally able to walk around the Fourth of July, but he felt sore from it at first and was thinking to himself, "Wow this is not going to be easy."
He didn't want any physical therapy at first, instead wanting to see how much he could do at his own pace.  But soon Jordan went back to lifting and he started to put on more and more weight and was seeing progress in his recovery.  That's when he decided to go to Dorman's sports complex for physical therapy with Haulman's Physical Therapy  to get in shape and see if he could be ready for the 2018 football season.
Therapy included working on sleds, weightlifting, running and stretching.
Jordan returned to Pittsburgh Presbyterian on August 29, and was cleared by Dr. Ivan Tarkin, who had performed the surgery in May. He returned to practice on September 11.
"I was very excited to return to the field just because I was told again and again how I wasn't going to play again, and just to get out there and finally be able to do contact stuff again really felt great," Jordan said.  "But that being said, no spot is just given to me.  I have been setting high standards for myself and have been working very hard every day to try and get back on the field and play some downs again. "
His dad was amazed by his recovery.
"The orthopedic surgeon had told Jordan that this is unheard of and that he should be crippled.  He said, 'If this had happened to your Dad and I at your age would be in a wheelchair,'" Booker said.
Coach Lovrich couldn't be more thrilled with Jordan's comeback and return.
"When I talked to him when he got back from Pittsburgh, I told him a good goal for him would be able to throw this upcoming track season," said Coach Lovrich, who is also the coach of the track and field team.  "There was not one thought about him being able to play football this season.  In July when conditioning started, he got cleared to begin walking, so he came to our conditioning sessions.
"Once he got cleared to play by his doctor, the smile on his face when he told me was huge.  He was very excited and I was very excited for him.  For him to go from not being able to walk in June to being able to put the pads on and get to play his senior year is just awesome.  He has not missed practice all year, except when he went to Pittsburgh to see his doctor to get cleared, and has been a positive person on the team."
Coach Bill Crowell, Jordan's offensive line coach, finds Jordan's recovery nothing short of miraculous.
"To be quite honest I was amazed that his recovery was as quick as it was.  He came to every practice and helped out the tam even when he was injured," said Coach Crowell.  "He has been working hard at practice since he had gotten cleared and is looking real good out there.  The whole coaching staff and all the players are looking forward to number 54 being back out on that field playing on Friday nights again."
Not only will he play, but Jordan will make the start against the Knights.
"This was a very emotional ride," said Booker Moore. "He loves the game and it hurt me to think that he would not play his senior year.  With his love of the game, lots of dedication, and the good Lord was the only way this comeback was possible."