Junior Firefighters
Several B-A Students Volunteer at Local Fire Companies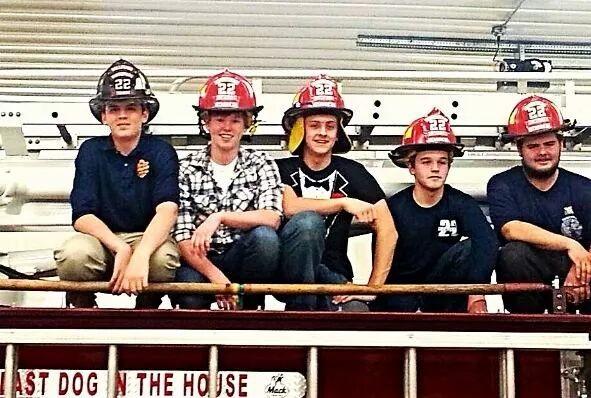 Firefighters take the time out of their lives to help others.
Throughout the day, Firefighters will respond to many different calls of service. Those calls include structural fires, technical rescues, medical emergencies, and hazardous material spills. That's hard enough when you are a grown adult at the fire station.
How tough is it for teenagers?
There are five junior members of the Excelsior 22 Bellwood Fire Department attending Bellwood-Antis. These members are Justin Gunsallus, Michael Yohn, Tom Whiteford, Connor Himes, and Scott Pearce.
The boys say they volunteer because they want to aid their community. "I volunteer to help save lives and give back to the community," said sophomore Connor Himes. "I volunteer for the feeling of brotherhood and the feeling of having a second family; also for the common respect for life," said freshman Tom Whiteford.
They enjoy volunteering because they like the feeling of being able to help people. Junior Scott Pearce said, "I like firefighting because I get to see the look of happiness on somebody's face after we help them."
"The experiences I have had are being around my brothers and hearing that someone you helped has made a full recovery and just hearing thank you from people you helped" said Connor.
There's also a natural thrill involved with risking your life to help someone else.
"
I like firefighting because I get to see the look of happiness on somebody's face after we help them"
— Junior Scott Pearce
"The best experiences I've had are getting to know the adrenaline rushes every time the whistle goes off," said sophomore Justin Gunsallus.

They have seen crazy things from exploding building to mangled cars and even dead bodies. Connor said, "The craziest thing I have ever seen is some of the videos and pictures of misusing equipment, like bridling two buildings using a roof ladder." Sophomore Michael Yohn said, "I have felt the shock wave of an explosion and seen a man's skull cut open."
What made these boys want to do it? Most of them wanted to do it because their fathers are fireman. Tom said he wanted to keep the family tradition going.  Connor said, "I always respected firefighters and wanted to do what they did and it's a way to remember my great pap."
Each of these guys has different duties as firefighter, which include saving people's lives and property.
"My duties are being ready, properly trained, helping people, and putting out fires," Justin said.
Connor said, "My duties are to keep the station clean and orderly; keep the trucks washed; grab tools as they are needed and place them back after they are done, and provide first aid on scene when needed."
They have all had to go through many different kinds of training, from vehicle rescue to live fire (in house) training.
Tom said, "I have had to do much training and there are a countless number of others I have to do."
Leave a Comment