Just a cheerleader
Basketball, football, volleyball, and hockey are sports. Cheerleaders on the other hand, are a sideshow, a part of the action but eye candy at most. At least that's the popular perspective in Bellwood and many other high schools in America.
High school sports are a core part of the student experience, and Bellwood-Antis cheerleaders are at all football games in the fall, home and away. They support the girls and boys basketball teams in the winter and  cheer on the wrestling team at each home meet. They are working three to four days a week during the school year. However, they don't get the recognition the larger sports teams receive from the student body or the public.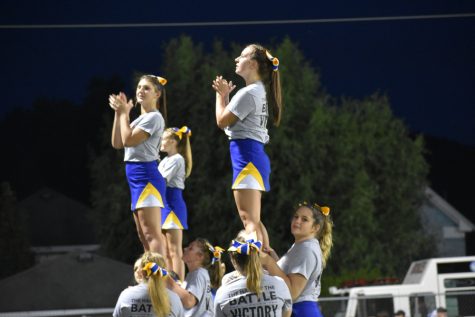 Instead, many cheerleaders feel they are degraded for their participation in the sport.
"I think the comments the boys make, about my body….are disturbing and disrespectful. They would never say those things to the girls basketball team," says sophomore Caitlyn McCartney.
While some people make rude and degrading comments just to get under a cheerleaders' skin,  others genuinely believe cheerleading requires no athleticism at all.
The debate brings into question exactly what makes a sport a 'true' sport. Cheerleading actually crosses a lot of requirements off the checklist.
Physical Exertion
It doesn't look hard, right? Standing on the sideline and chanting the same cheer every game isn't difficult. Toe touches and kicks don't appear to be hard to do. But the challenge comes with stunting, jump sequences, and timing for each individual cheerleader and the team.
"If we are off by one count in a stunt the whole stunt group has a risk of being injured," said sophomore Caroline Nagle.
The average observer sees cheerleaders as "just another fan" supporting the team on the sidelines, a sideshow that is there for the mere convenience of entertainment during time outs. However, what many of them don't see is the time spent in practice building muscles to lift their fellow cheerleaders in stunts.
"Over the summer we condition a lot just because it's the off season and we want to stay strong," said junior Casi Shade.
Practice and Preparation
"No one realizes the preparation and dedication that we have just for people to say 'she's just a cheerleader.' It's honestly really frustrating," said Casi.
Taken in its entirety, cheerleading is the longest running sport at school throughout the sports year. Their in-school season runs from August until then end of March. The varsity cheerleading team practices Tuesday, Thursday, and Saturdays for about 2 hours each day. On off days they are at a basketball game, a football game, or a wrestling match.
"In the winter months the girls cheer can cheer upwards of three and four nights a week on top of practice." said cheer mom Dawn McCartney,
That will only increase since this year the squad will be competing.
"We practice just as hard. We are just as important as any other high school athlete," said sophomore Abby Musselman.  
There are few breaks. Bellwood-Antis cheerleaders are permitted to take one personal day and two unexcused days per sports season.
"We can't have a player sitting the bench. All the girls are needed, and that's why they must be at every practice giving it their all," said Coach Chrissy Shura.
Unlike other BA sports — everyone plays and there are no subbing opportunities.
Competition
Until this year B-A varsity cheerleaders had not competed in any forum since 2005. This year they will be traveling to the Altoona Field House to compete in their first District cheer competition in more than a decade on December 15.
"We hired UCA (Universal Cheerleaders Association) to come and teach the girls a competition routine," said Coach Shura. The coaches felt that their squad had talent to compete, and they wanted them to have something to work towards.
"We practice longer to prepare for competition, and we are trying really hard to nail our timing because a lot of the other squads we are competing again are experienced in competing," said freshman Emma Chronister.
Because it has been almost 15 years since the squad last competed, the reputation of the sport, as a 'true' sport, at Bellwood-Antis has taken a hit.
Risk of Injury
According to an article by Kevin Hoffman, high school Cheerleading results the fifth-highest amount of injuries per year, with a yearly average of 22,671. Live Science said that high school cheerleading has accounted for 65.1% of all catastrophic sports injuries of high school females over the past 25 years.
"We've had back injuries requiring physical therapy, concussions, ankle injuries, and knee injuries," said cheerleader Caroline Nagle.
Though cheerleading is not a necessarily contact sport,  it is causing just as much damage to the body as some of the high school sports that require contact.
Fans don't see cheerleaders in the trainer's office after school and before practice being wrapped and stretched, but B-A trainer Jesse Glass can attest to the pounding they take.
"Honestly, the cheerleaders are always in my office for ice and for wrap because their wrists and ankles are being strained from using them to lift each other in their stunts," he said.
Conclusion
The article "Being a Cheerleader- Is Cheerleading a Sport" says that for a sport to be a sport it must include a physical activity which involves propelling a mass through space or overcoming the resistance of mass, competing against an opponent, having limits in space and purpose, and acknowledgement of skills of the participants. 
At B-A, cheerleading accomplishes all of these tasks.
Propelling a mass? Stunting.
Contesting? Competition at the start of December.
Governed by limits and rules? Time limits, scoring, and performance requirements.
Acknowledging on a national level? UCA, which trained B-A cheerleaders before the season, is a nationally recognized cheer organization that has been training cheerleaders since 1974. 
The final requirement – the activity's primary purpose is to compete against other teams – is the point where it gets dicey. In the past B-A cheerleaders did not compete, but all that is about to change.
So the debate is over?
Maybe this isn't a debate of whether cheerleading is a sport or not? Maybe instead one should be asking "Are cheerleaders athletes?" The answer: yes, without a doubt.
Caitlyn McCartney said that they work just as hard and are just as dedicated as everyone else, and this makes her an athlete. Casi Shade said that she is an athlete in all ways because her sport is physically and mentally demanding.
Ultimately, evena few football player came to a came around.  "We can agree with the fact that the cheerleaders are athletes. We see their support and realize they work hard," said one player, who in a telling move asked not to be identified for this story.
In the end, that's all the girls really wanted – to be appreciated and recognized.
That's all every high school student wants. These athletes now have theirs.