Bocce team advances to states
Monday night the Unified B-A bocce team competed  in the Blair County Bocce Championships at Hollidaysburg, ultimately punching a ticket to the state championships in Hershey.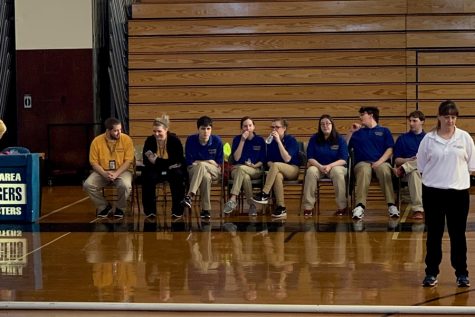 All three teams competing  – Hollidaysburg, Central and the Blue devils – went into the championship with a 1-1 record.
B-A started the match off with a loss to Hollidaysburg, but then turned it around to get a 10-7 win against Central.
After all the matches were over, all the teams in the county finished with two losses and two wins, which sent the championship into overtime.
"Overall students did well. We had very even match ups with Central and Hollidaysburg, and everyone had chances to win or lose, which it kept it very interesting," said coach Brandon Stewart.
Central came out on top after the overtime and won the county championship, but due to conflicts neither Central or Hollidaysburg can attend the state matches. That means the B-A bocce automatically advances to the state playoffs.
"We had someone from Special Olympics there and she said that we will do well at states. Part of unified bocce is that we, as coaches, do not intervene, and we get to see the students work really well as a team," said Coach Stewart. "That's something our team does very well."
The bocce team plays again March 20, in the Hershey for the state playoffs, and if they qualify they will advance to the state championship on March 21.
"We will try our hardest for the community, and it's going to be exciting," said senior bocce player Kaylee Kasper.
Bocce team members include Brodee Wyland, Kaylee Kasper, Tyler Long, Cole Poorman, Alivia Jacobs, and Brianna Reiter.
Mr. Stewart coaches the team along with Mrs. Molly Sease.